I want to drop in and do a bit of bragging for a friend of mine, Roland La Pierre. Roland recently started a business from his passion and hobby, that is turning a trophy photo into a true work of art!
What he can do with a photo is mind blowing and has to be seen. He is a reserved man who does not like to "toot his own horn", so to speak, so I am going to go and do it for him! He's been getting quite a bit of business from the African hunting crowd since opening his doors just last month, but I would like to show the rest of the hunting community his skills and see him start doing some N/A species prints!
I highly encourage all of you to go and take a peek at his site. He is also someone with whom you can just pick up the phone and talk with him about ANY question you may have on any of his work, materials used, or something you may have in mind for a particular print you may be thinking about. He can do just about anything you can conjure up. Its a very flexible medium to work with and the sky's the limit with it's artistic reach.
Getting work to him is as simple as can be with a click of the upload button on his site.. Prices are straight forward and INCLUDE shipping.  Nothing hidden or unexpected surprises.
I went with a METAL print with this particular print I had him do. This metallic print has almost a 3 deminsional effect to it and is of the highest quality. It comes as an 11X14 ready to hang picture. Quality is off the charts.
Here is what Roland has to say about the metal print:
 "In many cases Metal Prints are much more economical because it eliminates the cost to purchase a frame and glass... in our opinion glass hides much of the important beauty we work so hard to bring forth during the enhancement process! Metal prints are very appealing as it produces great detail, rich depth, color, and contrast..really making our photos POP right off the walls. These prints are striking and a most tasteful showpiece! Each print includes a 1/2" stand-out float mount."
Here is the before pic I sent to him. It was unedited: This was my Rocky Mtn goat from my hunt in 2011 up in British Columbia.
And here is the version that is now going to hang on the wall!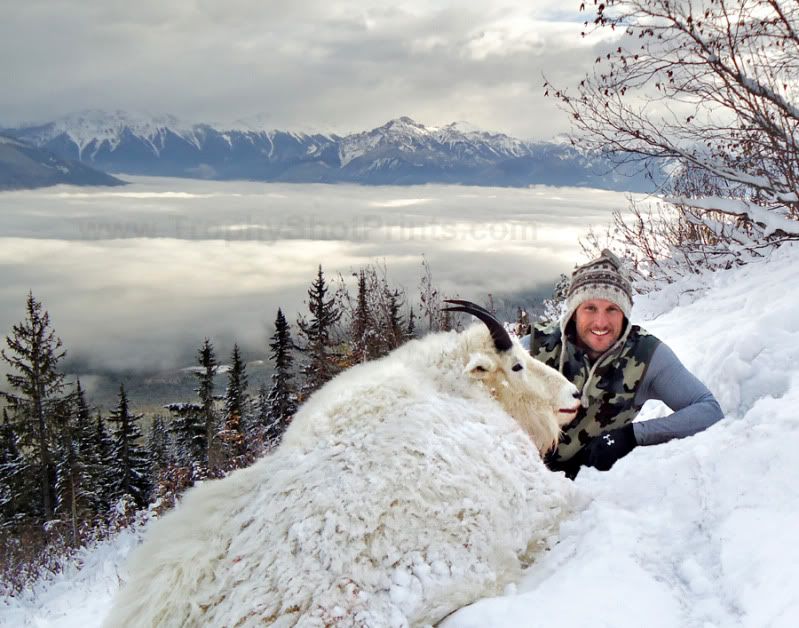 Here is an example of a more "artistic" Look he just recently finished. I like this different look. Has a painting feel to it. Very original and appealing.
Before:
After:
Give Roland a try. I know you will not be disappointed. He is a hunter helping hunters out making tangible memories to look at for a lifetime.
Here is his website:
http://www.trophyshotprints.com/
Thanks folks and I hope to see some TSP prints here soon of some big trophy coues bucks or some AZ sheep!