Hunt Stories
110 or Nuthin', Buddy!
by Gino Wullkotte (writing about his friend Erin Bittner)
"One-ten or nothing, Buddy!" That was my "pep" talk to my old friend, Erin, as his Dec. Coues hunt began. "Don't weaken… whatever you do, don't shoot one under one-ten!" Was my speech on the phone as the second week of hunting got underway. Erin had two goals for the hunt, "I don't want to hunt alone this year, I want to hunt with my friends." and "I'd like to beat my other two bucks that I have taken in this hunt previously." His best public land, late hunt buck is a 104+ inch typical…. A fantastic buck….. but not unbeatable.
Erin hit the hills as his hectic holiday schedule would allow, hunting with any of his "coues nut" buddies that were available for the day. The weekend before Christmas, Erin and his buddy "Goff" hunted a day with me and the guys that ended in a blizzard and nothing bigger than 105-ish being seen. By Sunday the 27th he had 7 days in the field, and had been from one end of the unit to the other it seemed, but the clock was ticking! That Sunday morning was crisp and cold…. we sat on the rocks above a large basin that is one of my favorite coues deer spots. There were four of us, Erin & myself and my two buddies Tige & Stuffy, glassing our eyes out, for very few deer. We spied another friend, Brian, on the opposite side of the basin and the texting began… HaHa… It passed the time considering that there was very little going on below us. We headed back to a piece of country that had high deer numbers for the afternoon hunt so we could, remind our eyes what deer look like. At dark, I was first back at the ranger and as I waited my phone rang….. it was Brian, "Hey, I seen a really good buck tonight. You guys ought to go shoot him in the morning. He's a first day shooter". "Where at?" was my response. "You know that one spot…… well I was there and he was here-" I was floored!! "That is right where we were gonna be in the morning!" "Well, he's in the brushy cut, down pretty low and he's gotta hot doe, he'll be there." "Thanks for the tip, B-Dog!" It is one thing to go to one of your good hunting spots looking for a biggun' and hoping he's there, but it is altogether different knowing that a guy you can trust has already seen the buck you're looking for on the mountain you are planning to look at!
Monday morning (day 8), Erin barely slept thinking about what might come. As we sat on the hill he looked over and passed a solid 95-100 incher first thing at about 500 yards. We picked the country apart… no Big Buck…. The hours rolled on and Erin's patients were wearing, looking at the same deer over and over. "I have never hunted this many days without seeing a Shooter!" He admitted, and I told him, "Relax, there is a "hot doe" over there. He will show. He is right here, we can wait him out." Mid-afternoon had us glued to our glasses in the same spots we had been all day, but now Tige and Stuffy had our backs. They were perched behind us with a larger field of view, so I began picking apart the stuff I knew they couldn't see and by 4:00 pm Erin and I had a Whopping 15 deer under our belts… a great day for the country we were in! We had been watching a high 80's buck for several hours right on the edge of the "brushy cut" when Erin says, "There is a doe now and he is rutting her in the open." This went on for a while and then the lil' guy froze, turned and started leaving the country…. BIG BUCK!!! There he came, head down and nose up, straight out of the cut! "Erin, grab your gun and your range finder!" I barked as grabbed my bino's and tri-pod. And we were running! A half mile to close and the end of day was coming. To the bottom of the canyon and up the bottom…. The rutting continued…. We popped up on the face opposite the buck and the doe, they were at 375 yards. Dead-eye, Erin with a less than perfect rest and me with the buck in my bino's repeating the words, "Shoot him, Erin. SHOOT!" I am not sure how many times I said it, and then there was the bark of Erin's .257 WBY! The buck humped and jumped forward two steps…. As Erin chambered another, the buck flipped over backwards! I could hear the Whoops and Hollers form my friends nearly a mile away… and from their perspective the buck was going over backwards when the report of the rifle finally reached their ears!!!! BBD!! We had a nasty uphill climb to reach the buck, but it was worth every step! Erin let out a gasp and a sigh as we ripped the antlers from the brush… there would be no ground shrinkage today!! It was long after dark when we reached my truck. We had only our guesses as to how big he was, but we really did not care what he scored, only that we all got to watch a Thumper hit the dirt…. and the celebration was on!!
The next morning, even the quarter inch steel tape could not shrink the buck or our excitement over the hunt. Green, gross score was 119 1/8. Thanks to Erin, for letting us tag along on this premier hunt and for letting a circle of friends pull a rabbit from the hat in the fourth quarter! And to my friends…. always Great to share a hunt with you guys, thanks! And to "Goff", you are the measure of a true friend! You hunted your butt off with Erin and I am really sorry that you were not with us on the day all went down!
Unfortunately, Erin e-mailed me mostly pics of me, the guys and his kids with the buck… and very few of him so I hope you can overlook my mug in the all these pics! HaHa!
A few more with me… I would not post them but that buck even make my Mug look good!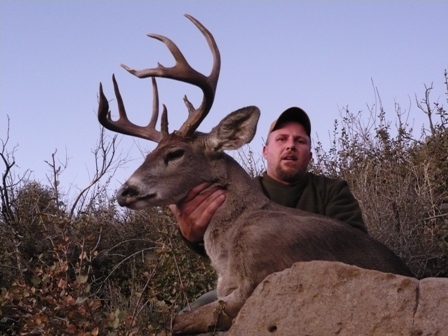 …and last…. nothing but horns…..
Tagged 110-120", December, hunt stories