Ellsworth Epperson Collection
2nd Annual AZ Antlerfest! WOW!
Well, what a weekend it was!  I spent Fri-Sunday (May 11-13, 2012) up at the Arizona AntlerFest and WOW!!  I have seen that collection before, but there are always new additions and it's impossible to take it all in!   It's just the most amazing collection of antler I have ever seen!! Over 12,000 pounds of antler including over 50 coues bucks over 115 and over 50 elk that score 380 or better.
Thank you to Alan and Shelly Ellsworth for opening their home for this great event!  They are great hosts and what a privilege to be able to view this collection.
As if Alan's collection wasn't enough, Jim Reynolds also brought many of his best bucks and great coues sheds.  UNBELIEVEABLE!  His collection is mind-numbingly awesome.  Most people would think that the coues sheds that he offered for sale are awesome, but the ones he keeps are just world-class!  Thanks to Jim and Susan for taking the time bring all those great antlers up to the event!  I never get tired of seeing those coues.
The combination of Alan and Jim's collection means this was by far the world's greatest collection of Coues bucks ever assembled!!!  I felt blessed to be there!
Anyway, words don't do this event much justice so I will just start posting some pics.  I met lots of CW.com members up there, so if you took any pics while there, feel free to add them into this thread……
Most, but not all, of Alan's collection comes from elk and coues sheds and racks he has bought from the White Mtn Apache Reservation.
442″ elk:
One of my favorite things about collections like this is the series of sheds they have from the same buck or bull.  I just love watching how the racks change over time….very interesting to me!
Alan already owned several sheds from this bull, but a guy brought in a shed he found that was from this bull.  He found it a long time ago and never expected to see anymore from this bull and was thrilled to see it at Alan's!  The shed he found is the brown one on the right and the others are Alan's.  The bases on this bull are amazing!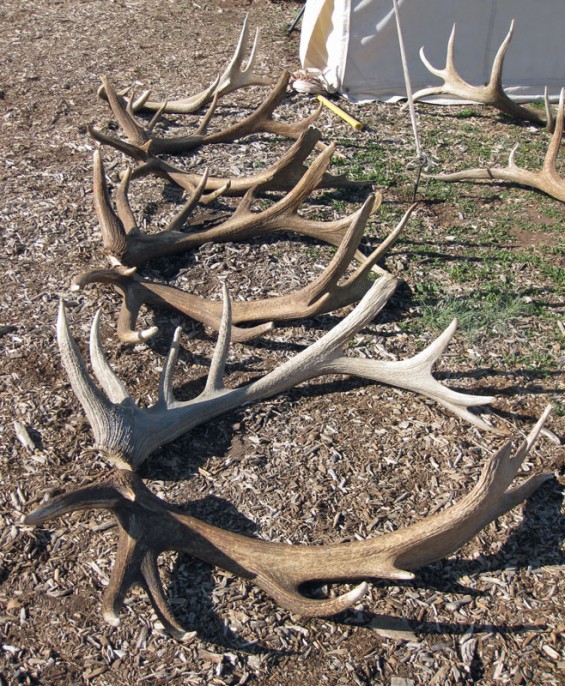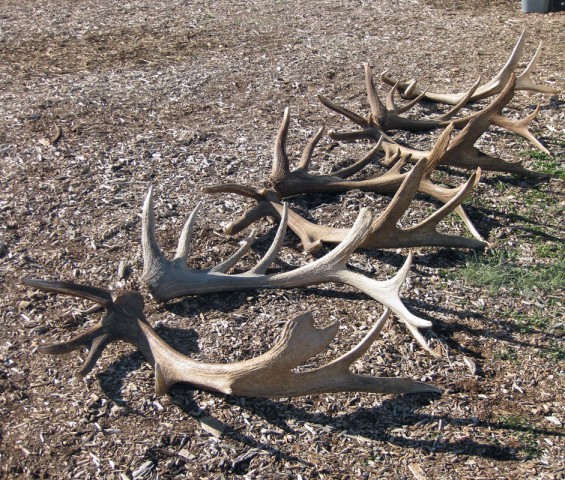 some great coues sets:
Some great sets from Jim Reynolds' collection
Taxidermist Dan Lee (of Artist Touch Taxidermy) holding a giant coues owned by Alan that Dan colored and will be mounting for Alan.  WOW!!   Dan was up there to promote the amazing fake rocks with lichens that he makes which can be used to display sheds and racks!  I think the rocks are an awesome idea and they look great!  I came home with a few small ones to display my sheds from my puzzlerock buck.  (sorry Dan I didn't get a pic of your rocks while I was there…doh!)
View from above in the barn:
and just some pictures from around the barn and outside: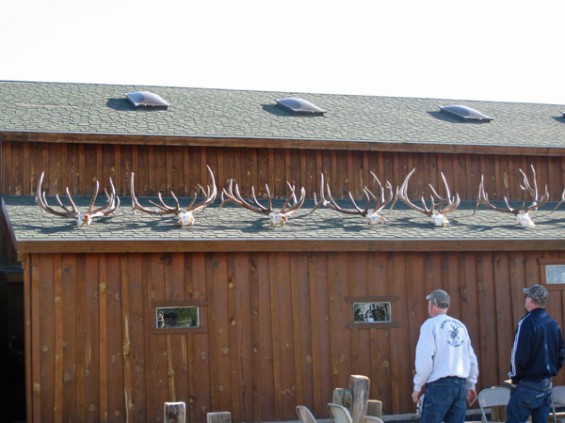 And this GIANT set is from a game farm in Canada and I believe Josh scored it at 430 without a spread!!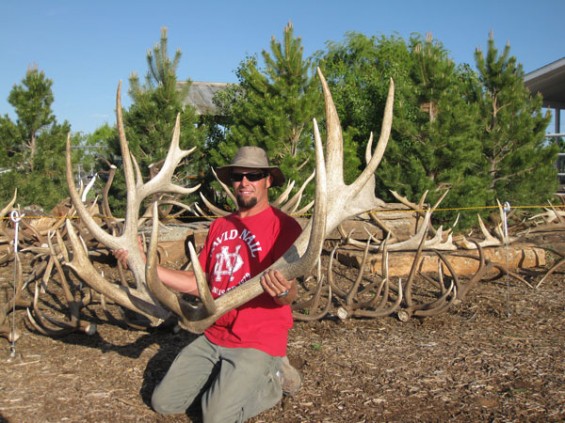 Saw several CW.com stickers up there, but here is a new one!  Thanks Alan!  Hope it makes you smile 
Tagged non-typical, shed series, sheds