Rifle Gallery
Alex Lopez 2007
November 2007
Unit 35B, AZ
Here is what Alex had to say about his hunt:
This kill happened on Friday November 9, 2007 and it was the firs day of the Coues White Tail November hunt. It happened at around 5:15 P.M. and my brother (Junior) and I were driving in his jeep and we stopped to look at a mountain and it was hard to see with the binoculars because the sun was not hitting that side of the mountain. My brother just looked at the tip of the mountain and saw a buck standing broadside and looking straight down at us. He was between 260-300 yards away. My brother told me, shoot at it it's a buck, I can tell by the way the silhouette looks and I can see the rack on it. I took some deep breaths and aimed and I got up and told my brother, were do I aim, and he told me to just aim at the top of his upper body. So I got set took a few breaths and shot it. We saw him go down right at the spot. He was trying to get up, but he couldn't. We stared for a few seconds and after we saw the buck stay down and never moved I jumped and screamed. My brother then tells me that we can come the next morning and look for it. I said no way I'm not leaving my buck over night he is bait for the lions and coyotes I'm going to get my buck. Then he said well fine grab your back pack and your flash light because it will take us a while and it will get dark. Sure enough when we arrived it was dark and the buck was still alive so I shot him again because he was trying to run and was moving further back. My first reaction when I saw the buck was I told my brother it's small, but at least he has a small rack. He laughed at me and told me are you crazy this is a nice buck just look at him. We then took pictures and then we did not take our knife to gut him. We ended up dragging the buck all the way down the mountain and to where our jeep was. It was tiring, but I didn't care I had my adrenaline flowing. This is my first kill after hunting for 5 years. This is the best trophy ever. The buck scored 100.4.

My name is Alex Lopez and I live in Nogales, Arizona. My hunt location was 35B and the exact spot was in Washington Camp near Sycamore Canyon. I shot a 30-06 Rifle.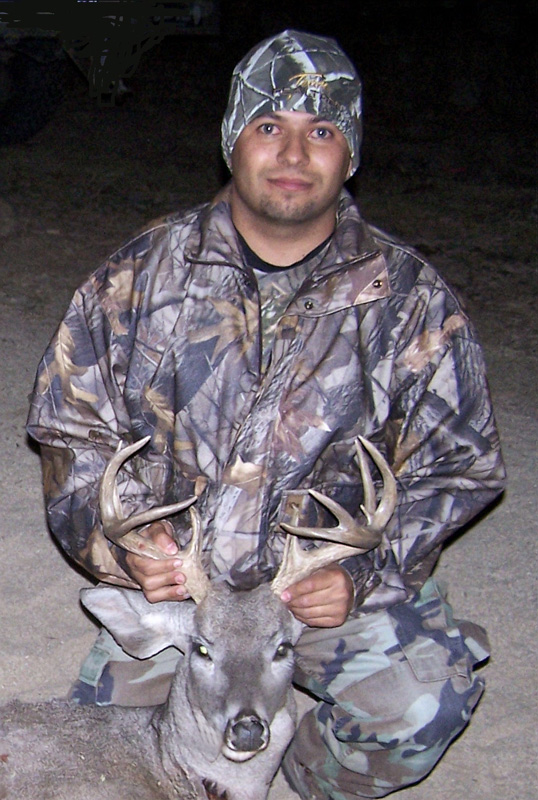 Tagged 35B