Hunt Stories
Bob's Buck
by Dale Gonzales
Let me introduce myself, my name is Dale, buddies know me as Gonzo. After 15 years of bow hunting I was blessed with a once in a lifetime Buck. Here is my story.
I hunted with a bow for 8 years unsuccessfully before I met Bob Nelson a hunter who harvested many deer in his time in New York. Bob and I hunted together for 7 unsuccessful years but we saw many fascinating deer. After a long day hunting we would play pool at his cabin and watch the deer that would come in setting off his motion lights and wonder if we would get a shot at one of them the next day. The camaraderie we had was great and became dearly missed when Bob passed away in September of 2007.
It took me 3 years to convince my new hunting buddy, Willie, to set up a spot where Bob and I hunted. After a ton of convincing Willie came out with me the second week of December 2009 and set a spot up that we called Bob's spot.
January 1st I had to watch a great 95-buck walk away behind me as Willie looked on. 29 hrs later on January 10, 2010 at 9:55 I looked to the sky after 2 and 1/2 hrs and said, " Bob, How bout you send me a Big Ol Buck and we will both go into the record books and I can leave this stand". Five minutes later a Big Ol Buck came in behind me and I sat and watched him walk away just as the buck on opening day had done. As he got to about 50 yards and near out of site I chose to blow a doe in heat call that I had picked up 10 years ago at Clint's Wells. Before I new it the buck was 22 yards from my tree stand that was 25 feet high and I was ready to take a shot. As he turned broad side I pulled back my bow only to have Bob's Buck flat out bust me.
I closed my eyes and kept peaking at him to see if he was still watching me. My mind was going crazy thinking, "Do I take a neck shot? How long can I hold this bow back? Did I draw prematurely? The fatigue set in and I settled for a neck shot but just then Bob's Buck turned slightly to the left and I released into the right rib cage of the biggest deer I had ever laid my eyes on.
Panic set in as I text my good friend Willie that I had "shot a monster"! He replied, "Which One", I didn't know because on our trail cam we couldn't make out one deer in particular so I answered, " I didn't know"! I have 4 boys at home and have always been about the meat knowing one day when they were all on their own I would have my chance at a trophy. Little did I know that that time was now. Willie text me back that one of his friends Seth would be to the site in 30 minutes. It seemed like a lifetime but as I headed to my truck I met Seth with another friend Dan and they both wanted to find this monster I had told Willie of. I was very concerned that we would not find the giant I had shot because the blood trail was next to none. Little did I know that these guys were on the top of their game that day and in about 2 hrs of tough tracking they found my deer 200 yards from my site. I call him "Bob's Buck" in dedication to my late friend.
I have had him scored twice and will be getting a third opinion soon but one came in at 135 and the other at 127 3/8. His bases are 5 3/8 just to give you all some idea. This is only the second buck I have ever shot with my bow. The first was a 2X2 on January 1st of 2009. Sometimes pictures don't do justice but here he is. Enjoy "Bob's Buck".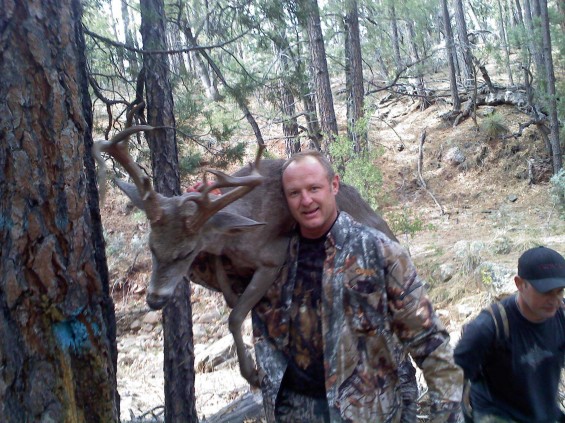 Tagged 120-130", archery, hunt stories, non-typical