Archery Gallery
Creed_AZ_88 takes great velvet coues! August 2013
Standing over a coues buck that you put an arrow through is an indescribable feeling of satisfaction. All of the blown stalks, close calls, cuts, bruises, lack of sleep, and time away from home is almost too much to handle. But it's all of these things together that keeps us as coues hunters going. We all desire one thing while hunting, and that's success. Success is measured in many different ways, and in more ways than not is measured by things other than wrapping your tag around an antler. But there is one thing that is for sure. Wrapping your ARCHERY tag around an antler, or back leg in this case, is a feeling that's hard to beat.
I was only able to get out for one morning during opening weekend, and it just about drove me nuts! I was finally able to get out for my first full day on Wednesday and I chose to hunt an area that I knew held fairly low numbers of deer but held big mature deer. I was not surprised when I came up with nothing at my first glassing location at sunup. My second glassing session turned up only two spikes. It was 9:30 when I set up to glass for a third time, facing a north facing ridge. A few minutes later I spotted him. He was bedded near the top of the ridgeline, surrounded by sentry plants with the wind at his back. He laid motionless, as big deer do, occasionally chewing his cud and staring at nothing, leaving his nose and ears to do the searching for danger. I've been in this situation before, many times, watching from a distance, thinking you have a chance at getting within range. Very seldom does the wind, the deer, and the other million variables involved with archery hunting work out for you. For some reason today though, my confidence was rather high. It was as if I almost knew it was gonna work.
buck from where i glassed him at 600 yds
buck from where i repositioned to glass from
I watched for half an hour to make sure he was alone, and to make sure he wasn't going to get up and feed. I repositioned myself further down the ridge to view from another angle and choose some landmarks. The whole half hour I watched him, the wind stayed steady, which is rare in coues country. It was blowing at his back, and slightly from his left. In order to come at the buck from downwind, I would have to come from downhill, which is very rarely in my game plan. So I decided that I would side-hill the ridge coming at him from his right and slightly above him. I made it to my first landmark in short time, and dropped my pack. I slipped on my knee pads and continued forward, to my next landmark, which I had estimated to be only 50 yards from the buck. It was actually about 70 yards from the buck, and at this time I went into stealth mode. I crawled my way up to where I could finally see the bucks rack through the grass at about 50 yards. I paused for awhile, checking the wind and waiting to see if he would stand and present a shot. I decided to crawl to my right ten yards, which would put a small juniper tree between me and the deer. The deer was still at 50 yards and the wind was staying true, so I creeped closer, checked the wind and ranged the sentry plant next to the buck. 43 yards. Most of my encounters with coues bucks go wrong right about here. Usually the wind swirls and all hopes of a shot are typically gone. Not today. The wind stayed on my right cheek the entire time. I could now see the bucks head and horns relatively well, so I paused for a few minutes, waiting for a shot opportunity. The small juniper's short plump contour concealed my every move and allowed me to crawl even further. Im now 31 yards and the buck has no clue! My adrenaline took over. I felt it overwhelm my body and I knew I better make something happen before I lose my composure. I draw,  stand, and settle my top pin on the dark figure in the grass. I release, fully expecting a buck to jump and run off with blood pooring from his side. Nope. That buck never left that bed again on his own will. The arrow anchored him to his final bed. After a few minutes of doing my infamous fist pumps and jumping around the mountain hollering like a school girl, I stood over my buck, and took in that indescribable feeling of satisfaction.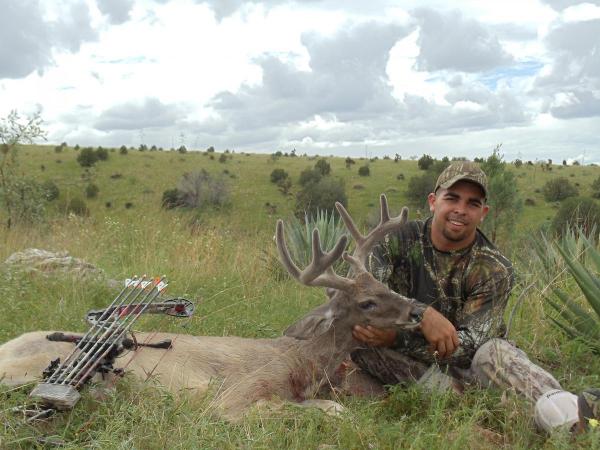 A huge thanks to my good friend Trent for driving all the way out and hiking the few miles in to me to help me pack out my deer. Thanks for reading. -Creed