Hunt Stories
Ernesto Cibrian's first Sonoran Coues and Biggest Buck
by Danny Howard
Wednesday January 11th, I received a call at home from Ernesto. He was not having very good luck finding the Muy Grande. For the previous 3 days, he had only seen two small bucks and a couple of does. The weather was not cooperating, it was extremely hot and was very windy on one of the days. I let him know that I would be at the border crossing on Friday around 2:00pm. He agreed to meet me there and we said our goodbyes.
Friday January 13th, I had caught a really bad cold, but I needed to help my friend out on finding a good buck. I was late in leaving Safford but made good time down to the border, arriving at 2:10pm. Ernesto was there to meet me, along with Mauro, the ranch owner. After some brief greetings and a few stops in the border town for some extra food, we were off to the ranch. Arriving at the ranch, we were greeted by Tony (Ernesto's brother) and Antonio (Mauros brother). Tony had came down earlier in the day to also help his brother in finding a trophy coues. That evening at the ranch, Ernesto explained to me that he had seen a eightyish inch buck following a doe the previous day and that he had also seen a small buck chasing a doe. Ernesto laid out a plan on where we would glass from on the next morning. We would be glassing from a ridgetop that they had observed a large buck from last year, with hopes of maybe finding that buck again. With my cold kicking into high gear, it would be a long first night for me. I was hoping that it wouldn't effect my ability to help Ernie find a nice buck.
Saturday January 14th, the day started off at 5:30am. After some quick breakfast we were off. Ernesto took a quad and would be taking it as close to the mountain as he could get it. Tony and I went together in his jeep to the end of a road that would put us fairly close to the end of the mountain that we needed to climb up. We parked the jeep, gathered our gear and started off toward the mountain. The morning was rather warm, felt like an October morning. As Tony and I climbed the ridge, I was having real problems keeping up. My chest was hurting bad from trying to cough and not make a lot of noise. As we reached the ridge top, Tony motioned that he would take up a position a few hundred yards to the South of mine, glassing a little valley that had a water tank. I was to take a position glassing up a large canyon to the North. Ernesto was in a position to the West of me about a 1/4 mile and would be glassing the end of the ridges where they meet the flats.
After setting up, I immediately started glassing the ridges. I thought that this would be a great morning for glassing, especially since there was cloud cover to the East, that would block the sunrise for an extra hour or so. I thought to myself that this might keep the animals up a little longer without the hot sun bearing down. As I worked over trees, rocks and cactus, there was nothing moving. One hour went by, then started into another, still I hadn't located a single deer. I kept looking deep into the canyon and noticed an area where there was some cattle congregated. This area looked promising for deer, but I was unsure if they would like being near the grazing cattle.
Ernesto finally called on the radio and asked if I had located anything yet. My answer was no, I asked if he had seen any. His answer was no, he then asked Tony and the same answer was received. It was around 8:30am, so we decided to stick to the positions and see if anything would materialize out of the desert. I hadn't finished talking with Ernesto for more than 5 minutes when I located a deer deep in the canyon. It was above the position of where the cattle had been earlier. After a solid look through my Swaro's 15X, I could see that it was a buck and a good buck due to the distance from me. I immediately called Ernesto and told him to hurry to my position that I may have found a shooter buck.
As Ernesto was making his way to me, I replaced my Swaro's with my Zeiss spotting scope on the tripod. Zooming in on the buck, I could see that he had really good height, but wasn't really wide. He was partially hid behind some ocotillo, so I still didn't have a clear view of his antlers. After a couple of minutes the buck finally moved into full field of view. I could clearly see that it was a large two by three, not counting the eyeguards. I could also see that it had what looked like fairly decent eyeguards. I decided to try and setup the scope for taking some pictures, since the buck looked fairly content on staying where it was at. It took me a minute or two to get the gear out of my pack and placed on the scope. As I was trying to find the buck in the camera, I couldn't locate it. I took the camera off and looked through the scope. No buck! He had moved. I looked feverishly to the left, right, up and down. The buck wasn't anywhere in sight. I thought to myself, "You idiot, never take an eye off of the buck!"
I started working the spotting scope in a pattern around where he was last standing. With the great distance and even with the scope on 60X, I still wasn't able to see around the brush with great detail. I searched and searched, but could not locate the buck. I started thinking about what to tell Ernesto, "Sorry, but I lost your trophy buck, because I was trying to take his picture." Around that time, Ernesto showed up, just as he was approaching me. I saw a deer running in the scope. It was a doe. I panned the scope up from where she had ran from and saw the buck. A great relief came over me.
I locked the scope down on the buck and let Ernesto have a look. I told him that it was a good buck, but was only a two by three. Ernesto admired the buck for a few minutes and said "Sure looks good, but only a two by three." As he stepped back from the scope, he happened to look down the ridge from us, then said "Danny, something running down there!". I scrambled and grabbed my binos, as he was getting his. I put them up, but couldn't see anything. Ernesto whispered to me that the only tree below us was obscuring my view. I hopped onto some big rocks, then saw two deer running. I put my binos on them. They were a doe and a fawn. After insuring that nothing else was chasing them, I turned to Ernesto and said that our talking must have scared them out from below us.
We continued viewing the buck in the distance and attempting to judge him. I kept telling Ernesto that the buck looked very tall. Taller than most bucks I have ever seen. We watched the buck get close to the doe, but she would run off if he came in less than twenty yards of her. As the deer moved across the ridge, it looked as if they may have a chance to move closer to us. So we just sat patiently waiting and watching, still trying to put some figures to the antlers. I thought that his eye guards looked around 3″ and the G-2's looking to be around 7-8″. Ernesto agreed that the G-2's looked long. But he was still concerned with it just being a two point on one side.
Just when we thought the buck may get closer, the doe changed direction and went into a small canyon that we did not have a good view of the North facing slope. Of course, the buck followed.
By now, it was around 9:30am. We discussed what to do. Sit out the spot for the day and see if we could pick up any other deer or maybe pick up the buck again in the afternoon from our position. Or possibly move to a different location. I was starting to get that achy flu feeling again. I told Ernesto that I think the buck needed a closer look. We discussed where we needed to get to possibly pick up the deer bedded across the large canyon. I told Ernesto that we didn't need to climb really high for the view. Plus, I didn't think I would be able to make it. We decided to go together and try to find the buck. Ernesto called his brother to meet us at my position.
Tony arrived a few minutes later. Ernesto told him our plan and off we went. Tony would remain on the mountain top and glass the surrounding areas. As Ernesto and I made our way across the small valley to the ridge on the opposite side from where I had been glassing, I mentioned to him that it was very hot. He agreed. We stopped numerous times to catch some shade behind what trees or cactus we could find for cover. As we started climbing, I was having trouble catching my breath, but the location we were at offered no view. We kept going until we reached a point that I told him would be good to start glassing from.
After an hour or so and not seeing anything, Ernesto told me that he was going to move a 100 yards or so farther along the ridge. I decided to go with him, to try and get a better vantage point. We reached a point that looked to offer a pretty good field of view of two opposite canyons, one of which the buck had disappeared into. There was some cloud cover in the sky now, so the position I took up had no shade. Ernesto continued and setup about 50 yards farther and slightly above my position.
I setup the binos on the tripod and started glassing the canyons. I glassed for around 30 minutes trying to tear apart every bush, where I had last seen the buck. It was around 1:00pm and I was not able to locate anything. The wind had picked up, so I continued glassing areas where the deer might have found cover from the wind. Still nothing. I felt the cold starting to come on strong now. I was feeling really tired. I decided that I had better lay down for awhile and maybe the symptoms might subside for the evening.
At 2:30pm my alarm went off on my watch. I felt worse. I could feel the fever coming on again. I put my jacket on, but was having problems getting warm. It was hot out, but I felt really cold. I tried to glass a little, but was having trouble concentrating. Still really tired, I ate some candy bars from my pack.
It was a little after 3:00pm, when I decided to try and glass a part of a canyon straight across from our positions. I hadn't moved the binos more than 50 foot across the ridge when I spotted the buck. He was walking below a cliff and feeding. I immediately called to Ernesto that I had found the buck. As Ernesto made his way to my position, I watched the buck. He looked better closeup. He had that distinctive rounded nose, old buck look. When Ernesto had gotten to me, I had swapped the binos for the spotting scope. Ernesto took a look at the buck through the spotting scope. I could see from his expressions, buck fever. It was great watching him get excited. He turned to me and said, "Big buck, really tall big buck." You could see him physically shaking with excitement. He asked how much I thought it scored. I was estimating it in the 90's. I told Ernesto that I really wasn't a good scorer, but I knew a big buck when I saw one. We discussed the buck at length and options. Ernesto decided to take the buck.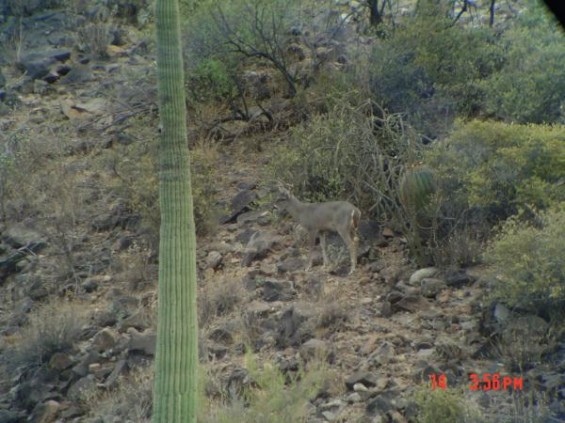 Ernesto asked me what the range of the buck was from us. I took out my rangefinder and ranged him at 420 yards. That was too far of a shot for Ernesto, especially with a really strong crosswind. Since the buck seemed to feeding in a general downward pattern and us having a couple of hours of daylight left. We decided to wait and see if he would move closer to us. We watched the buck for about 15 minutes, when he turned and started feeding away.
I told Ernesto that he was going to need to stalk him. Ernesto wanted to get above the buck, but we didn't have enough time for him to make a stalk above the buck. I told him that his best chance would be from the bottom of the canyon. I estimated a less than two hundred yard shot, if he could get to the bottom. Ernesto agreed and started his way down the ridge.
I kept watching the buck feed. As Ernesto had almost reached the bottom, the buck turned and started feeding back down towards Ernesto. I tried to call on the radio, but had no luck. Then the buck leveled out along the ridge, stopping frequently. I had lost sight of Ernesto and didn't know his location, to that of the buck. Then Ernesto called, he couldn't locate the buck. I told him that it had moved 50 yards down and a 100 yards to the right from the last position that he had seen it. About 5 minutes went by, when Ernesto called back. He said, "I'm going to shot him now."
I jumped behind the spotting scope. I was watching the buck, when I saw fur explode on its shoulder and heard the crack of the rifle. The buck hopped on three legs about 30 yards, then stood there. I thought that maybe Ernesto hit a little low. I watched the buck, when I seen him starting to wobble. Then the buck laid down. I continued watching, when I saw the buck lay its head down to the side. I then realized that Ernesto had made a perfect shot into the shoulder. He had taken his first Sonoran Coues and his biggest buck.
By the time I had reached the bottom of the canyon, Ernesto, joined by his brother Tony, had already brought the buck down to the bottom. We did the congratulations and took some pictures. It was going to be a long haul out and well after dark. But it was all worth being there to see Ernesto smiling from ear to ear with his big buck.
On the last day we were in Mexico, Tony having a javelina tag, we decided to try a morning hunt for one. Tony was going to walk a small valley and Ernesto and I would climb to the top of a small mountain to glass for some pigs. As Ernesto and I headed for the mountain, we discovered a really nice coues buck with his doe. We watched these deer for an hour or more. This is the buck that Ernesto will be going after next year.
Tagged mexico