Rifle Gallery
Mike Fabritz 2004
Dec 2004
(aka Rembrant)
Unit 23, Arizona
Mike hunted with his brother Martin (who also got a buck). Here is what Mike had to say about his hunt:
We backpacked for 7 days, took two days off for Christmas and backpacked for another 6 days – weathered the big storm on the mountain!! (see bottom photo of wet camp!)

We saw on average 16 deer a day, 3-5 bucks a day, mostly small bucks running the does all over the mountains. We saw 6 bucks that would score over 90″. That's a big buck every other day. We did not try to kill anything until after Christmas. We saw one buck that was clearly over 100″ and another that was pushing 100″. Both of those bucks beat us. The deer I killed was tending a doe and that's what got him killed – that was on our eighth day of hunting, the day of the full moon. The remaining 5 days, the big bucks were moving, moving, moving.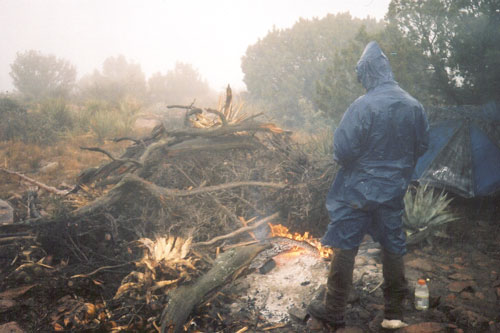 Tagged 23