Hunt Stories
My 2006 November AZ Coues Deer Hunt
by Martin Guerena
My hunt started in my head, long before opening day even came around. I received a phone call from my buddy Dave Reyna who just kept telling me how lucky I was to have the November hunt. He had just gotten home from his sons October hunt in the same unit I had. He told me his son had missed the biggest buck he had ever seen. I know Dave has a 114 B&C buck on the wall at home, so I knew what he had seen must have been huge. His son had an unfortunate accident and broke his wrist prior to the hunt, so it was tough for him to shoot. He did however harvest a nice 80-class buck later during the hunt. My hat goes off to him for making the most of his hunting opportunity.
After Dave filled me in with the details of his sons hunt, we were immediately making plans for my hunt. I had to work opening weekend and his wife had a tag in another unit, so we weren't going to get together until the 4th day of the hunt. On the third day of the hunt, Dave called me with some great news. His wife had harvested a 100-inch double main beam buck. With that news, I was even more excited for my hunt.
My day finally came when we could go out. Dave picked me up at my house at 4:00 AM and we were on our way. We had about a half hour quad ride to our hiking spot. We hiked about 2 miles all up hill in the dark before we got to our glassing point. About an hour after sun up, I spotted two small bucks working their way across the mountain. I later spotted a doe coming out of the flat below us. I was getting anxious and wanted to glass another hill behind the one we were on because all of that country looked so good, when Dave told me that the big bucks they had seen hadn't started moving until about 8-9 AM. Just a few minutes after Dave told me that, he spotted a small buck that was working his way onto our side of the mountain from the top. We continued glassing for about another hour when Dave spotted a nice buck. He said he was probably one I was going to want to shoot. Dave knew that I wanted a 100-inch buck or better so I knew he was looking at a nice one. The buck went behind some oaks and I couldn't see him, so the wait was on.
Ten minutes later Dave had him in his binoculars again and told me he was a monster. I quickly got the buck in my binoculars and saw how nice he was. It didn't take me long to decide I wanted to take the buck. He was 550 yards away and just feeding. Dave was shaking with excitement and kept telling me how long the buck's tines were. I got the buck in my spotting scope and got a better look of just how big he was. I quickly grabbed my rifle and headed down the hill to try to close the distance. I got within 350 yards and sat down with my bipod on the ground and couldn't see the buck over the ridge line in front of me. I saw a huge boulder next to me so I climbed up on it and laid down in the prone position for the shot. I was 335 yards away and could only see the bucks neck and front shoulder.
For the first time in a long time, I had buck fever. I was shaking and was trying to hold my crosshairs steady on the buck's front shoulder. I tried to calm myself and held my breath for the shot. I shot and still saw the buck standing there; damn! I had to calm myself down even more. I said a little prayer in my head to ask God to help me make the shot. The second shot hit its mark and the buck dropped in his tracks. I heard Dave on the radio say, "You got him bro!" Man was I happy to hear those words. I walked up to my buck and was very surprised; there was no ground shrinkage at all.
After we took a ton of pictures and got done admiring our trophy, we cut the buck in half to make our pack out much easier. We were both carrying heavy packs to begin with and had a 2 mile hike back to the quads. When I returned home, I had my buck unofficially scored at 110 6/8 B&C points.
I want to thank God for giving me this great opportunity and I also want to express my great thanks and appreciation to Dave for all of his help on this hunt. I owe you one buddy!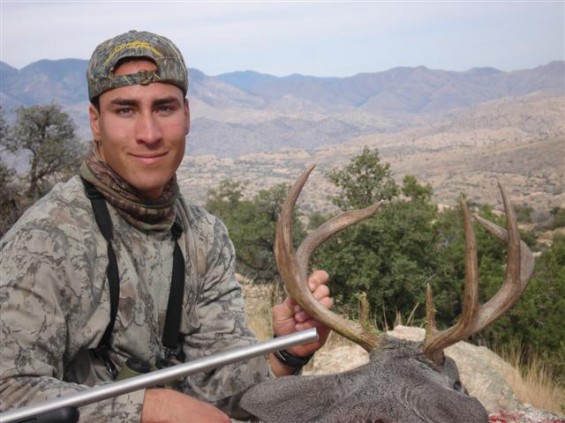 Tagged 110-120", hunt stories