Rifle Gallery
Six for six in 2004
This group of hunters went 6 for 6 this year in Unit 33 during the October 2004 hunt. And five of those hunters were first timers!!
In the top photo you can see the group and all six deer.  The young boy in the middle of the group is AJ Rose and he got his buck with a 380 yard shot.
From left to right on the bottom row we have:
Trevor Brown with a 90 inch buck
Melanie Barnett with a buck she got with a 503 yard shot.
The full-bodied buck was taken by Melanie's husband, Casey. He took that buck on the same hill 5 days after his wife and daughter got their bucks.
Next is Rudy Anderson in the camo hat with his 85 inch buck he got with a 250 yard shot.
And on the right end of that row is Cami Barnett proudly showing her buck.  You can see more photos of hers below.  She got that buck with one shot from 430 yards.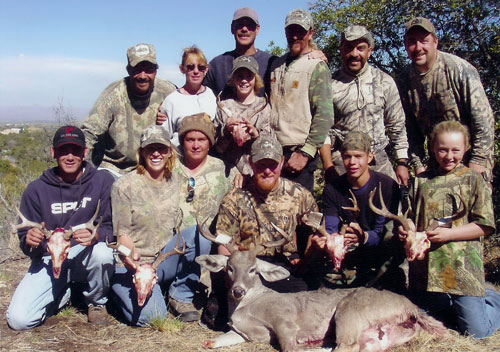 The photos below and to the left show Melanie and her daughter Cami who got their bucks on the same hill within about 10 minutes of each other!  There is also one photo below with Casey (Cami's father) and his buck.
Wow, what success!  How many families can say the father, mother, and daughter all got bucks from the same area during the same season!