About Us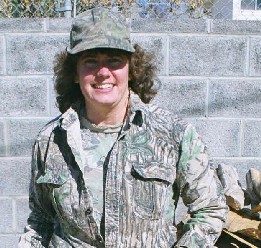 My name is Amanda Moors.  I am a wildlife biologist who lives in Globe, Arizona.  Currently, I have a wildlife consulting business and have conducted recent projects with the U.S. Forest Service, University of Arizona, Bureau of Land Management, local ranchers and the San Carlos Apache Tribe. I also teach classes on wildlife identification and big game hunting at the Becoming an Outdoorswoman workshops in Arizona. I have a  master's degree in Wildlife Management and have worked for a wide variety of agencies throughout the U.S.  Coues Whitetail are one of my favorite animals and I have been thinking of creating this page for several years now.  Since it costs a fair amount of money to do it right, I was hoping that my desire to make this website would fade.  But it hasn't, and so I finally bit the bullet and launched this site in December 2002.
I started becoming fascinated with Coues Deer in 1994 when I first hunted one.  The buck that you see on the upper left corner of each page on this web site is the first buck I killed and it was a fine one from the San Carlos Apache Reservation.  I was the biologist for the San Carlos from 1994-99 and was fortunate enough to spend a lot of my time hunting there.  There are many outstanding hunting opportunities on that reservation for 10 of Arizona's big game species.
My goal with this web page is to provide a place where hunters and others interested in Coues Deer can come to gather information about the species.  I also want this page to be dynamic, with people submitting articles and photos frequently, and with useful information exchange in the discussion forum.  I will update this site with new sources of information as it becomes available. Because I want this site to be useful to all people interested in Coues, please feel free to email me with suggestions or comments you have for the site.  amanda@coueswhitetail.com
Thanks for visiting!!
Some Bucks I have taken in the past few years: