Hunt Stories
36C hunt – We had a blast!!
by Scott Kendrix (aka Scottyboy)
Well, we had our 2005 hunt and I must say that we had a great hunt. Y'all may remember my buddy Kevin from the pronghorn pics, well he rolled into Tucson Thurs morn from El Paso and we loaded up and picked up Rich and we headed for the hills. We got out there and got the 5th wheel and the rest of camp set up and got to do a few hours of glassing before dark. I spotted one buck that would go between 85 and 90″ thrashing an ocotillo limb right before dark. The next morn, we decided to make the 5 MILE HIKE back to the spot where I had been seeing alot of deer on a regular basis for the opening morning place. Well, at about 9:30, I spotted a deer hauling butt down the hill and coming at us. He stopped at a barrel cactus and started eating the fruit. That gave us enough time to look him over. We all guessed him at 95. So I decided to take him. The fever set in and the .223 WSSM rang out and was about 10 feet high!! After settling down, the second shot hit him a little high, but was a good hit. He dropped. I had ranged him right at 250yrds. When we walked up on him, his body was TINY!!! We had over-estimated him. But it didn't matter to me. I finally had my first coues buck. He ended up being about 83 inches. Not huge, but mine none the less, and I couldn't be happier. After the LONG hike out, and taking care of the meat and cape, we went to a new spot for the evening and I glassed a very nice buck way up the mt. that was out of range because darkness was setting in. That night Doug (RedRabbit) rolled into camp to help with glassing and packing. Next morn, we tried another new spot and saw a few deer, but the place was a war zone with people shooting all over the place. We packed up and got out of there. We went back to camp, ate some lunch, and caught a nap before making the LONG journey back to the spot where I took my buck. We were behind schedule when we finally made it there and started glassing. About 10 minutes later, I spotted a buck on top of the ridge. We all decided he was a shooter. Rich was next in line to shoot, but decided to give the green light to Kev because Rich got one last year and me and Kev ate tag soup. Anyways, it was getting dark really quick and the buck just wouldn't come out from a stand of ocotillos. Finally, he cleared, I ranged him at 390yrds uphill, and Kev took the shot. He made a PERFECT hit. Right behind the shoulder. BUCK DOWN!! We hiked up to him, snapped a few pics, and got to work. The buck was a great buck. His body was a total opposite of my buck. He was huge!! We loaded down the packs and began the long haul out. We made it back to the truck at around 10:15 that night. That's why we didn't make the dinner. But, it was for a good reason!! Kev's buck is a high 80's buck. Not bad for his first coues either!!!
The next morn we all slept in, and at lunch said our goodbyes to Doug and got ready to find a buck for Rich. We went back to try to find the buck that I had found the evening before season started. No luck. Just a bunch of does and forkies and spikes. Well, we decided that was it for us and had a great time in camp that night and called it a hunt. Rich and Kev had to get back to the kiddies for Halloween. We figured that 2 for 3 ain't too bad anyways. Rich was OK with not getting his buck. Just now I have to take him to TX for a whitetail hunt!! The next morn as we were loading up getting ready to head out, I picked up an unopened bottle of Guinness beer and accidentally dropped the danged thing on a rock. It exploded and the bottom of it shot off and hit me right in the knee. I wrapped it up as good as I could, finished packing up, said our goodbyes to Kevin, and Rich too me to the ER. 10 stitches later, I'm as good as new!! All's well that ends well !!!!
We all had a great time on our hunt and Rich, Kevin and I want to thank Doug for coming down and helping us out on glassing and packing.
Congrats to everyone who got a buck and hope all of you had a hunt as fun as ours….
Here is my buck…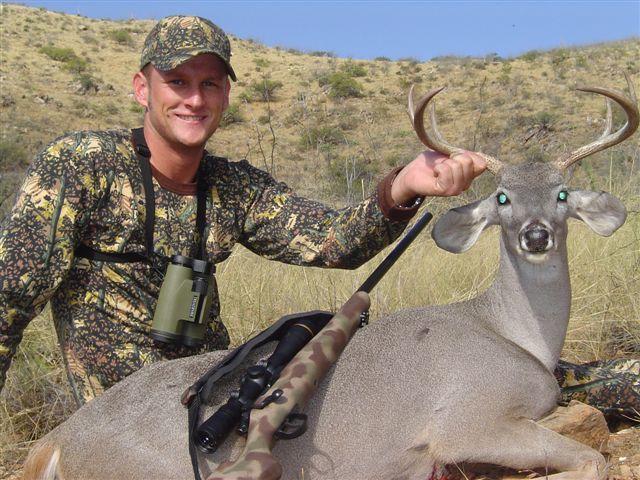 I guess this is the pic I'll be entering in the contest…
The hill behind me in the pic is where Kev's buck was taken. We shot both bucks from the same location.
Tagged 36C