Hunt Stories
Mace's Monster Buck
by Mace Cochran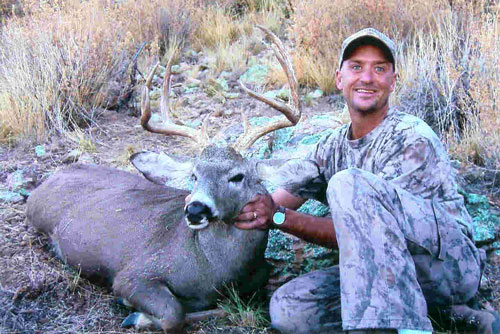 The hunt for this buck actually began during the 2004 hunt. Last year I was hunting with a friend of mine, and we had drawn the 10 day hunt. We had also drawn a New Mexico Muzzleloader Bull Elk tag, so we had decided that my buddy would have first shot on this hunt. Opening morning started out miserable. We had overcast skies with what felt like hurricane force winds. We knew the deer were going to be brushed up and out of the wind as best they can. We got there plenty early and began glassing. As we expected, there were very few deer spotted, a couple little bucks and a few does, most of which were bedded. After a couple of hours I was ready to move on up into the country and get a new vantage point from which to glass.
The route we were taking was going to lead us through a thicket of oak brush. On our way through the brush, I noticed a bed and super fresh tracks headed out. We began kicking ourselves over pushing this deer out. The tracks were huge! Once we got out of the brush I looked in the direction the tracks were headed and there was a buck standing there looking up at us.
I threw my Swarovski's up and sputtered out that there was a monster buck checking us out. I got my rangefinder & tripod out of my pack and set them up. The buck ranged at 454 yards. We were looking to shoot only really large bucks, so I wanted to check him out with the 15's. I got them set up but was not prepared for what I saw when I looked through the glasses. This buck was HUGE! I kept commenting that his G2's were enormous. At just the time we were going to shoot, the buck took a step and disappeared for the remainder of the hunt. I knew where I wanted to be for the 2005 hunt.
As luck would have it I once again drew my 10 day Coues hunt. I was wanting to spend a lot of time scouting, but things have a way of getting busy when you have 4 kids and I was limited to just a couple of trips. The first trip I only saw a few small bucks and was a little worried the buck might not be around anymore. On the second trip I caught a sight that caused me to become an insomniac until the hunt arrived. I saw the buck walking around a small hill, but I only had a few seconds to view him. I knew it was him and he didn't seem to be any smaller. I decided that I would not start hunting the buck until after the opening weekend had passed, not wanting to risk possibly pushing him to someone else. I knew there would be far less people out hunting, and I was not worried about someone else finding him, given where he was living. Opening weekend came and passed without finding a buck I wanted to shoot. Monday finally arrived and it was time to start looking for THE buck. I started looking for him from every angle I could without putting any pressure on him. I knew I had plenty of time and I just felt that if I were patient, he would end up making a mistake. Over the next few days I was seeing quite a few deer, just no shooter bucks.
On Thursday morning I decided that I was going to get an even earlier start than I had been, and I had that feeling when I left that morning that I would be taking a buck on his first four-wheeler ride. I got to the spot where I unload my quad, and the temperature outside read 31 degrees. It was going to be a pretty cool ride today! I headed in and once I got to where I parked the quad the wind had picked up considerably. I can deal with anything from rain and snow to sunshine, but I can't stand the wind! I was a little frustrated, but still had that lucky feeling. I headed up to where I was going to do my first setup, arriving plenty early. I got the Bogen tripod and 15's set up and began the daunting task of trying to find this elusive buck. I picked up some does and fawns but not any bucks. About a 1/2 hour later I finally found a buck. He was a real nice buck and I had a hard time talking myself out of shooting him. He was about 450 yards across a canyon, and it would have been a neat shot. I just kept watching him feed and hoped another would come join him for breakfast. I finally decided to start back to glassing other country, and would check on him from time to time. He eventually laid down and became impossible to see, and I had gotten extremely cold. I wasn't picking up any more deer in this area and I was ready to look at some fresh country. The area I was glassing is where the deer I was hunting had been the previous times I had seen him, so I decided hat I would move to a new vantage point where I could get a different angle on this basin, plus I would be able to see into the next basin. After gathering all of my gear and putting it in my pack, I began to slowly make my way up the ridge. I was walking along when all the sudden I heard the sound of a deer running. I looked up and about 100 yards away I caught a glimpse of a deer going into a little cut.
I threw my 25/06 up and got ready for him to come out. He shoed on the other side and my first impression was that he was huge. I had already chambered a round so I took aim and fired. MISS! I jacked another round in and remember telling myself to settle down and make the shot. I took aim and things seemed to go in slow motion. I got remarkably steady and began to squeeze the trigger. At the recoil I looked up and could see the buck had dumped on impact!! I had a white belly shining! It was just after this that I began to question myself. Was he really as big as I thought?
Unfortunately, I have experienced ground shrinkage before, and I was really hoping not to do it again. I tried to look at him lying there through my glasses, but I could only see a piece of his rack. I had shot him at a distance of about 150 yards, and I covered that in about 4.3 seconds. The closer I got to this buck, the bigger he got. He kept getting bigger&bigger! Once I got to him and picked up his head I just lost it.
This was amazing! I jumped around for a good 10 minutes. I had found the buck. There was no mistaking those G2's. Another cool thing is this buck was shot at about 300 yards from where I had seen him last year! He definitely had his home territory. He was in great health and had the most fat that I have ever seen on a wild animal. Another thing to note, this buck was never on his feet during daylight hours. I had glassed where I jumped him from a minimum of 20 times that morning. I had seen plenty of deer up, so I think that he was just a smart old buck. Hope you enjoy this story, I'm no writer.
Tagged 130-140", hunt stories, tall