Hunt Stories
My 2004 December AZ Whitetail Hunt
by Jack Luffy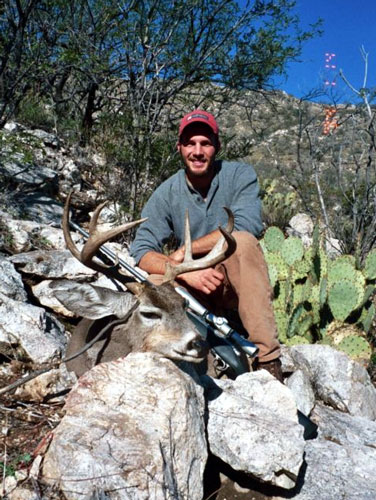 After four long years of waiting I finally got another Arizona late whitetail tag. Having already killed two bucks over 100pts (101 &103) I really wanted to kill a buck 110 or better.(yeah, don't we all!!) I had never set foot in my unit ever before, I had just heard how great it was. So setting my sights high I began my search. After three weekends of scouting I had seen a lot of deer but very few bucks, and three lions. The first four days of the the hunt were HOT! with very little sign of the rut, So I headed home for work and Christmas hopping for a change in the weather. I went back the day after Christmas and was seeing a lot of does, small bucks and a hand full of 95-100 inch bucks, but no rutting activity. I was beginning to get discouraged, then on Wednesday the weather finally changed, it rained and the wind blew all day.
I woke up Thursday morning poked my head outside and saw nothing but clear sky and felt a little chill in the air, PERFECT! just what I had been waiting for, a chill ran down my spine. I was also happy because after hunting by myself for five days my dad showed up to help. We headed off to our glassing spot with excitement. Setting up just as the sun started to shine on the mountain I pick up a doe right away, then I caught movement above her on the opposite ridge. The deer was standing under a mesquite with it's head behind some brush. After what seemed like forever this deer stepped out into the sun which was like a spotlight on him and my heart skipped a beat. All I could see were horns and there was no doubt this was the kind of buck I was after. He was about 1000 yards away so my dad kept an eye on him while I made my stalk. I reached a rock outcropping about 350 yards where the deer was and set up . I was out of breath and excited, but could not find the buck. My dad called and said the deer had gone down the ridge and was about to fight another buck. Just then I heard a crash looked down below me and saw the two bucks fighting. The fight lasted long enough for my get them in my scope. The bigger buck chased the smaller buck then stopped and gave me a perfect shot at 250 yards. I fired a warning shot and the buck started to run.. Oh no you missed, I could not believe it! Crossing a canyon and running up the next ridge the buck finally stopped, not knowing how far the buck was I just put the crosshairs just below his back and shot I heard the welcome Whop as the buck stumbled and fell.
We were so excited hooping ,hollering and yelling back and forth we probably scared every deer off the mountain. How far was that? my dad yelled the range finder said 425 yards. After an hour of busting brush and and stumbling over rocks I reached my buck. WOW he is impressive. He has an 18″ outside spread and 17 1/2 " main beams and 7 1/2″ points, However his left G1 is broke off and his right G1 is a whooping 1 1/4″. This buck didn't make 110 like was hoping for but I was not disappointed,105 is his gross and he is the biggest deer I have killed so far!! Next year I will get that 110!!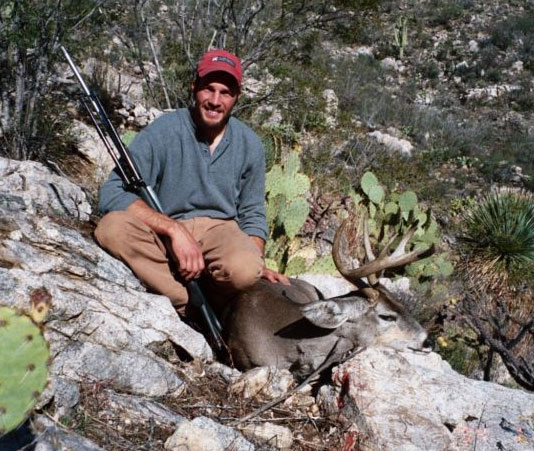 Tagged December