Hunt Stories
My 2007 Mexico Hunt with Mexafari
By Amanda Moors
Well, yet again, I feel very fortunate to have been able to hunt Coues Deer in Mexico during the rut.  The people, the culture and the outstanding Coues deer populations make a trip down there very special.  I chose to hunt with Mexafari outfitters (www.mexafari.com) and this would be my third trip with them.  Last year I was privileged to take a 110 inch buck (click here to read that hunt story) and I always see some great deer down there, so I was eager to go again.  My friends Beth Pugh and Ernesto Cibrian went along on the hunt.  Beth had a tag of her own and Ernesto went along to help us glass and to help as a translator since he is fluent in both English and Spanish.  Those of you who frequent the CouesWhitetail.com forum will know who Ernesto is and of his passion for Coues deer.  Beth has hunted for years and has taken Coues deer before, but hadn't yet reached the "fanatic" level of dedication that Ernesto and I feel about these little deer.  I think after this hunt, she may well be on her way to becoming "Coues Crazy"…..
The journey down to the ranch started during the day that the big snowstorm hit Arizona in late January.  Beth lives in Alpine and she and her husband drove down to my house in Globe during the snowstorm.  Salt River Canyon was closed due to the snow and so they had to go the long way around and didn't get to Globe until around midnight on Sunday the 21st.  Beth and I loaded up my Jeep the next morning and headed down to Sahuarita (south of Tucson) and Ernesto met us along the way.  We stayed overnight at my father's house and then left for Nogales early on Tuesday morning.  We met one of our guides, Temo,  at the McDonald's in Nogales on the US side.  Temo had all the appropriate paperwork for our guns and hunt contracts.  After a quick breakfast we left for the border and Temo made sure our crossing went perfectly smoothly.
The trip to the ranch takes about 9 hours of driving from the border.  It's a long, windy road, but it goes through some gorgeous scenery.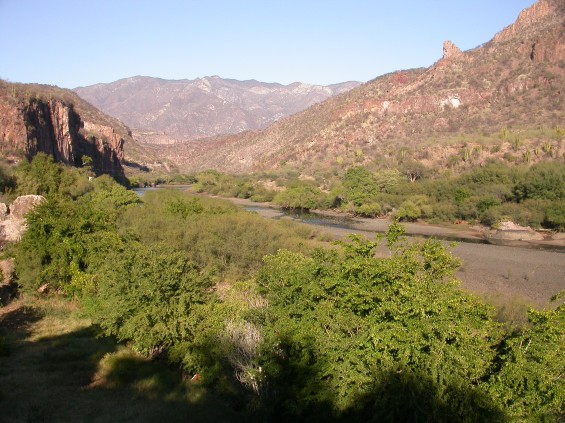 We drove through all kinds of small towns and up and down steep canyons and over one-lane bridges over rivers.  Eventually we made it to the ranch around 8 pm that night.  We unpacked and settled in to get some rest before the hunt started in the morning.
Here is a photo of the front porch of the ranch where we stayed.  I don't know how they keep all those plants alive since it freezes at night!
We awoke to hear the wind blowing hard outside…..as most of you know, wind can make hunting for Coues deer very difficult because the deer tend to stay bedded or at least move less.  On the other hand, sometimes having a windy day can make it easier to find deer because they will move to the sheltered areas, thus narrowing down your search area.   My friend Beth would be hunting with Temo and Ernesto, while I would hunt with Javier.  Javier had seen an excellent 110 inch buck during his pre-season scouting trips and knew exactly where he wanted to be opening morning.  We set up facing a large hillside with a small draw below us.  This would allow us to glass the area where the buck had been seen.  Unfortunately, the wind kept blowing and it even started snowing.  After glassing awhile and not seeing any deer, we decided to try and find another area that might offer more shelter to the deer out of the wind.  Despite the wind and light snow, it was a stunningly beautiful morning and I felt so fortunate to be on this ranch hunting Coues deer yet again.  Normally, wind makes me feel frustrated when hunting, but this day I couldn't have cared less…I was just happy to be out there in coues country, knowing my chances of seeing several great bucks on this hunt were high.  My mind drifted to a friend of mine who is no longer able to get out and enjoy things due to a terrible car accident.  How incredibly lucky I am to be able to get out and enjoy such a great morning doing something I love.
We took a short drive to another location and one of the guides immediately glassed up a giant buck!  Unfortunately we only saw him for a brief moment through a break in the oak trees.  Wow, great buck.  We glassed for awhile, hoping the buck would come back out.  No such luck.  Javier knew the land and knew we had little chance of seeing that buck again given the direction he went.  The side of the ridge where he headed was so thick, that Javier thought it would be better to just try to find this buck another day.  So we packed up and went to another spot.  It's now late morning and we hiked to a good overlook and I set up my tripod and started glassing.  After a minute or two I saw another GIANT buck coming fast down a ridge across from us.  I got Javier's attention and showed him the buck.  He agreed it was a monster and so we packed up and moved fast to a location where we could shoot across a canyon at him.  However, when we got there we couldn't find the buck.  He apparently had disappeared into some thick brush and trees.  We glassed a long time and saw nothing.  Javier and I talked about what size we thought the buck was and I told him I thought it was a 120 buck.  He thought maybe 115.  Either way, we both thought it was a monster.  So we waited and glassed and tried to will that buck out the thick stuff.  Around 1 pm, we had to make a decision on whether to leave the buck and go have lunch or wait him out.  We decided to stay put and luckily we had another guide who was with us go back to the ranch and get us some food to bring out to us for lunch.  We glassed for another hour or two while waiting for food when suddenly I spotted a small buck down near the bottom of the draw across from us.  As I watched the buck I realized he was looking back at something in the trees.  I figured it might be the big buck, so I grabbed my rifle and set up the bipod and put a round in the chamber.   He was still in some fairly thick brush and I knew it would be a very small opportunity for a shot.  I wanted to be ready.  Well, a big buck did step out and Javier immediately went to work trying to evaluate it and see if it was the same buck.  The buck quickly moved into some thicker trees and we couldn't see him for awhile.  Then we saw some more movement.  The buck moved into a small opening but I didn't really have a good shot.  I was looking down toward it and it was facing me. I could see the tips of its main beams behind a juniper.  We were above and across the canyon from him, so I could look through the tips of his antlers and see part of his back.  Most of his antlers and head were behind the juniper.  I suppose I could have taken the shot and tried to hit his spine, but I still wasn't sure how big it was.  We tried desperately to tell whether this really was the monster buck we saw earlier.  Unfortunately, with the glimpses we had of it, both of us decided it was only a 107-108 inch buck.  It seemed to have really long tines and it had bladed tips of its main beams, but for some reason we just didn't think it was as big as we originally thought.  We found out the next day that we should have trusted our first impression of this buck…..
So after that brief time of seeing that buck, he went back into the thick stuff and we glassed for another hour or so hoping to see him again.  We didn't see him again and so we decided to go some other spots for the evening hunt.  We ended up at the same place where we started out in the morning during the wind and the snow.  But now it was calm out and evening was falling.   I almost immediately glassed up a very nice 110 inch buck, probably the one Javier had been expecting to see there this morning.  I wanted to go after it immediately, but Javier thought we would run out of light for the shot and it would be better if we came back in the morning.   When it became too dark to watch that buck anymore, we went to the ranch and enjoyed a wonderful dinner and some tequila around the fireplace.  It had been an excellent first day.  I had seen three bucks I thought would go over 110, but things just hadn't fallen into place for me to get one.  Around the crackling fire, Beth told me all about her day and the great bucks they had seen.  She had seen a 109 inch buck right away in the morning, but Temo said they would find something better since it was only the first day.  Then later in the day they saw four bucks fighting with each other.  At least one of them was a true monster and they knew exactly where they were heading the next morning.
That night it rained all night long and was still raining when we got up.  We made sure everything that was sensitive to getting wet was packed in ziplock bags or trash bags to protect them from the rain.  Beth, Temo, and Ernesto went after that big buck they had seen the previous evening.  With the rain coming down they went and stood under a tree and were watching a herd of javelina.  Several had come really close and ran off.  Just then Ernesto said "Big buck, big buck".  Beth looked over and was looking for a full-bodied deer and Ernesto said, "look on the top of the ridge for his neck and head only."  Beth put up her binoculars and said "OH !!!!"  The buck was staring right at them.  Temo looked at Beth and whispered, "You shoot now."  Beth sat down, unbuckled her pack slipped it off, chambered a round (.25-06).  She put her rifle up and had him for a split second in her scope before he was gone.  Beth wanted to run over there and find him but Temo said they should wait awhile.  Her heart was pounding.  All of a sudden a doe came walking out from some bushes on their side of the ridge.  The javelina were woofing and the doe started walking along the ridge, and then the buck came running over the top.  He stopped, Beth put up her rifle had him in her cross hairs and again he moved; he started chasing the doe.  But she had enough time to lead him a bit and shoot.  The buck didn't stop, he continued to chase the doe.  She put another round in, thinking she missed and hoping that she would get a second shot, and then Temo said the magic words, "He is down!" Beth was thrilled.  This was the biggest and nicest Coues deer buck she had ever seen and she made a good running shot and he was down. It was about 11:15 in the morning and the shot was about 100-110 yards.  They went over and found the buck and everyone was thrilled!  Check out her giant buck….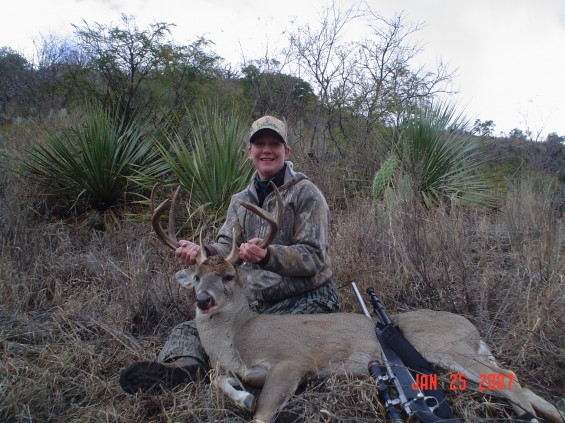 I scored this buck for Beth at the ranch and came up with a gross score of 119 5/8.  This is just a straight typical, no trash on it at all.  WOW!
Meanwhile Javier and I had gone out to look for that 110 buck.  I glassed him up again and we headed after him.  Eventually we got up on the ridge across from him, which would have given me a 200 yard shot at that buck.  Javier had left another guide down below to watch the buck while we were making our stalk.  Unfortunately, the buck was no longer visible to the other guide, but he felt the buck was still there and that we should be able to see it.  We searched quite awhile and although I saw several does, we could not find the buck.  It was getting to be late morning and Javier began to wonder if we hadn't spooked the buck out of there during our stalk.  I didn't think we had and I could hear something below us which seemed to be doing the "snort-wheeze" call of a buck.  But I couldn't find anything.  Eventually my guide decided the buck wasn't there anymore and he wanted to try another location, so we did.  We found a nice 101-103 inch buck only a couple hundred yards away at the new spot, but I didn't want him, so I just filmed him.
It was mid-day now and we headed back to the ranchhouse for lunch.  While we were there we heard on the radio that Beth had gotten that amazing buck!  As soon as Javier and I saw it back at the ranch we knew it was the buck we had waited on during that first morning of my hunt.  It had been a 120 class buck!  With a mix of elation for Beth and disappointment at myself for not having taken the shot at the buck the day before, Javier and I headed out to find some more bucks, while Beth, Ernesto and Temo stayed back and celebrated their successful hunt.
Before hunting that afternoon, we went to shoot my rifle to make sure it was still on since I had tripped and dropped it the day before.  The rifle was shooting a bit low and to the right, but only by an inch or two at 200 yards (without a stable rest) and so I decided not to change it and to just keep that in mind when I took my shot.  That afternoon we didn't see anything I wanted and so we went back and enjoyed another great meal and tequila and cervezas around the fire.  The next morning the plan was that we would all go out in the morning and try and locate that 110 buck that I had seen a couple times already.
We set up in various locations to glass the ridge where the buck had been spotted previously.  We got there early and waited for first light.  I started glassing and eventually found that buck bedded on top of the ridge very close to where I had waited for him yesterday morning.  It was a great sight.  All we could see was part of his head and his tall antlers.  Since he was right on top of the ridge, his antlers were skylined and the first light of the morning revealed frost on the vegetation around him.  Man, I wanted that buck.  So I discussed a plan of attack with my guide and we decided to go up to the top of a small hill nearby and shot across.  Although it looked farther to me from where we were below, Javier knew that it would be about a 200 yard shot from on top.
We packed up and Ernesto came with us so he could film the shot.  We moved fast up that hill and about 15 minutes later we were in position.  Javier crept forward and confirmed the buck was still there.  I looked around for a rest and chose a branch on an oak tree.  The grass around there seemed too tall for me to use the bipod.  I already had a round in the chamber before getting up there so all I had to do was get the rifle steady.  Javier said, "he's up, the buck's up and looking at us".  I found him in my scope and saw that there was quite a bit of brush in front of him, but it seemed very close to his body and so I decided I could shoot through it.  Knowing my gun was shooting a little low and to the right, I put the cross hairs on his high shoulder and shot.  The buck jumped and ran down the back of the ridge and disappeared.  Beth and Temo had been watching from down below and we radioed to ask how it looked from their angle.  Beth said it looked like a hit since the buck hunched up and ran.  Javier and Ernesto both said they saw the same thing.  I was still worried about the brush and was really praying that I had killed him.  Javier called the cowboys on the radio and asked them to bring the dogs just in case the buck was wounded and not down.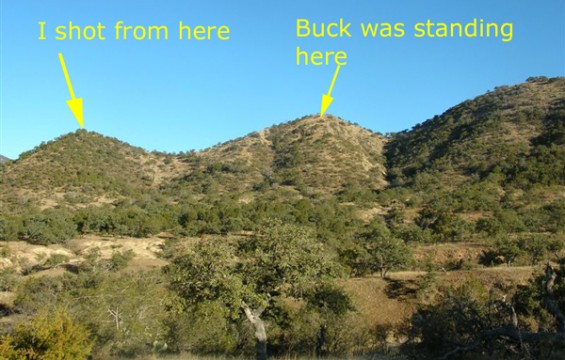 After getting to where the buck had been standing, we saw there was no trace of blood and there were two branches with bullets holes in them. Apparently I had hit the brush in front of him, but these branches were very low and to right of where I was aiming. Had I really missed this shot???? Did the bullet get deflected? We searched for blood and set the dogs out to sniff for blood. The cowboys led the dogs down the backside of the ridge looking for blood or the deer. No luck, nothing. Apparently I had missed badly and the buck left unscathed. I couldn't believe it and couldn't figure out what had happened. I still don't know what happened. I mean this was a broadside shot at a deer standing still only 238 yards away from me! Ack! I felt nauseous…..the one consolation was that at least I had missed cleanly and not injured the buck. I was very depressed and anxious. If I make a mistake I like to learn from it and fix it, but it seemed unexplainable that I had hit below that buck! I mean I had a decent rest, I had time to take the shot, the buck wasn't moving, what more can you ask for? Perhaps the bullet was deflected by something on the way over there, but the angle of how it hit those low branches seemed to indicate otherwise.
Here is a short slow-motion clip of that buck when I shoot at him. Where the bullet ended up hitting is below his back legs. You can see him kick his back legs up and see some wood bits flying in the air since the bullet struck that tree. You can't see his antlers real well, but as he runs away you can see them a little. It certainly was a great buck…..maybe next year I will see him again or someone else will….
After regrouping, we moved to a new spot and I found a nice buck looking right at me only about 200 yards away. He had most surely been watching me set up my tripod before I spotted the buck. Javier was with me and I showed him the buck, we watched it while it stared at us. We could see that the buck had tall eyeguards, good mass on the bases, and main beams that almost touched. It was hard to tell, but when the buck turned a little, it looked like his third tine on his left side was at least 7 inches long. After a minute or two, the buck turned and disappeared into a drainage. It was tempting to go pursue that buck right away, but Javier made a decision to not pressure the buck and come back to hunt him in the afternoon. So we went back to the ranch house for lunch and planned to return later and approach the buck from a different ridge. We also took my gun out and checked it again. It was slightly low and to the right, but nothing that would have accounted for my miss this morning. Anyway, I adjusted the scope a little and now it was dead on.
About 2:30 PM we headed out to see if we could find that buck again. Javier crept up to the end of the ridge and found the buck again right away and yet again, amazingly enough, the buck had already spotted him. So just as in the morning, we could see just the main beams and those tall eyeguards. Knowing the buck would run any minute, I quickly decided to take the buck. In order to get a shot, I had to make a move to the right a few feet so I could get out from behind the brush in front of us. Javier whispered to me that the buck was looking away and so I moved then and set up the bipod and found the buck in the scope. I made a 150 yard shot with my .270 and he went down where he stood. The buck has 5" eye guards, 4" bases but had a narrow spread of only 10 4/8. It grossed 101 inches. It wasn't the biggest buck I had seen on my hunt, but it was a really unique one and I was happy to have him. I always wanted a buck with big eyeguards and wrap around main beams. Here he is. Check out the dark beams that almost touch in front.
And here is a picture of the skull after it was cleaned up.
The day after I got my buck we went out and tried to film some nice deer.  We found several, but most were a bit far away to see much of them.  But here is one clip:
We had a long, but enjoyable drive home.  We broke up the drive by staying overnight in Hermosillo.  One the highlights of the drive was seeing a large bobcat cross the road in front of us on our way to Hermosillo.  Here are a few more interesting things we saw on the way out.  Love the roots on this tree growing out of the rock!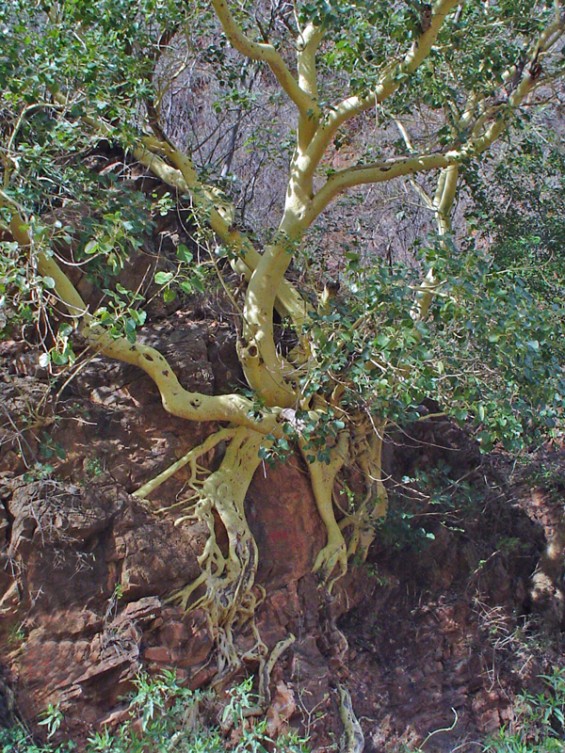 Thanks to Javier and Temo of Mexafari outfitters for yet another successful and enjoyable hunt.  I really love that ranch that we hunt on!  Lupe made some excellent food and we enjoyed our time in the evening around the fireplace.  Thanks to my friends Ernesto and Beth for going with me and making this a great trip!
Anyone wanting more information about Mexafari, can visit their website: www.mexafari.com  or email me and I can give you more information.
Also, please note that Mexafari is donating a fully outfitted Coues Deer hunt in Mexico for the Arizona Deer Association fundraiser on April 7, 2007.  Anyone interested in bidding on that hunt, should definitely attend our auction.  There will be many great hunts and hunting related items at the auction. See www.azdeer.org for more info.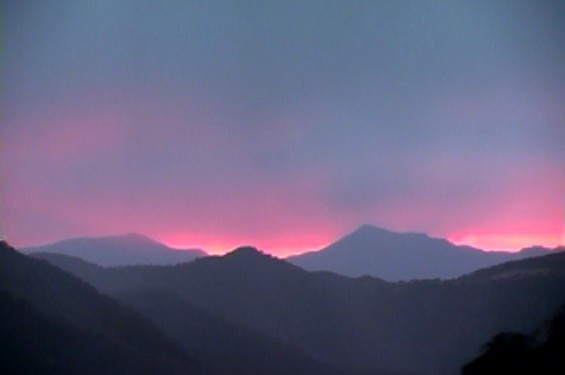 Tagged mexico, Mexifari Outfitters