Hunt Stories
My First Hunt!
by Heather Robertson
I am a 32yr old Mother of 2, this was my first hunt. I had done some target shooting but had never been hunting. My husband and I put in for Coues deer in unit 23 in Eastern Arizona where we live. He had always hunted cow elk always hunted for the meat. So when we both got drawn for deer in late October we started talking to Whitetail hunters every chance we got. Well my husband did some scouting and we hunted the first two days and I didn't even see a deer. On the 3rd day I stayed home with the kids and he got a little forked horn. We were thrilled as everyone told us if we didn't have $1000 glasses and spotting scopes we would be lucky to even see a Coues Buck. My husband spooked him out of some brush and dropped him at 250yrds running.
We knew a guy who said he knew a spot where the deer would come for water and I felt more confident taking a shot from a stationary position so we decided to check it out. We hiked in and sat the tank but saw nothing but bluejays all day. On the hike out I fell and hit the scope on the 30-30 I was using. We tried to sight it back in but only had 4 shells with us so the next day I took my husbands 30-06 out instead. Now I shoot left handed and I didn't even shoot his gun to see if it was on for me. We went to another water hole and my husband and friend left me there with a walkie-talkie and instructions not to move. I was laying on my stomach on the side of this tank and at about 10:30 I looked up and there froze half behind a pine tree was a huge Coues buck. I mean compared to the one my husband brought home this guy was a monster!! I kept thinking it had to be a mule deer it was so big. I watched him through my scope as he walked toward the water trying to see his but to make sure it was a whitetail. Remember this is my first hunt and the only whitetail I'd seen was a doe running away from me at about 50 miles an hour and the little one my husband had brought home. So I was worried I would shoot the wrong kind of deer. I finally watched him long enough that I was sure it was one of the biggest whitetails in unit 23 so I took my time, got my sights right behind the shoulder, broadside, standing still, 30 yards, Perfect, took a deep breath, squeezed the trigger……and MISSED him. In complete shock I watched him spin in his tracks and in one leap disappear. I ran around the tank and desperately looked for a blood trail… nothing.
Over the radio my husband says "did you get him?" Man, was it hard to say "I missed him" Well they were just over the hill and came to see what happened. We looked and looked but could find no sign I'd hit him. "How could you miss?" my husband asked. "I don't know" I said feeling about 2 inches tall. "Get over there where you shot from." he said. He picked up a rock about 4 inches square and said "Can you see this?" and set it right where that deer had been standing. "Shoot it" he said. I blew that rock to pieces first try. How could I miss a deer many times that big? Now convinced I had to of hit him we scoured the area, followed his track for 100 or more yards and still found no sign he was even slowing down. My husband got on his quad and started criss-crossing the area and almost ran into two more bucks, we ran up there but they were gone. So we decided to go back to the tank and see if something would come on in. But first my husband dug the bullet out of the dirt and said "Here's your antlers" as he dropped them in my hand. They left and I waited, amazingly about an hour later a spike buck came in.
I decided to wait and watch him for a minute because he kept looking over his shoulder so I was hoping there was a bigger buck still coming in. I watched him for at least 5 min he wandered around sniffing at where we had shot and walked all over and then went for a long drink. He was starting to walk away and I had to decide if I was going to take a shot. I couldn't do it. There was no way I was going to bring in a spike after the monster I had a chance at earlier. So I radioed my husband and said I was done for the day. I told him all I saw was a doe. I didn't want him to know I'd passed up a buck of any size. The next day I went back by my self at 6am about 35 degrees determined to get a buck that day to redeem myself. I was so cold I laid down in the sun and after shivering for an hour fell asleep. I woke up hot and sat up to take my jacket off . . . and spooked a nice buck that I hadn't even seen or heard. So I quickly laid back down in the shade figuring, I had blown my chance for the day. I was so disgusted with myself thinking I had no business being out there. When I saw movement in the trees about 150 yds. across the pond. I watched hoping it would turn and come in for water, I could tell it was a buck and a whitetail but that was it, the brush was so thick. He kept going finally I couldn't see him off to my right anymore. I knew there was a road there and was hoping he would turn around and come back. He did. I watched him come back just a few yards closer and finally crossed an open spot. I quickly saw antlers, and whitetail so said to myself "here goes" and shot. He jumped straight up in the air and ran. I couldn't believe it, I thought I missed him. Then I heard breaking brush and thought to myself "I didn't hear any brush breaking with the other deer, maybe he's wounded.
So I walked around to where I shot him and again no blood… I started following his tracks and just when I was going to give up, go home and rip up my tag there he was…Perfect shot behind the shoulder, he ran about 40 yds. I field dressed him and loaded him on my quad. I knew he was bigger than my husbands deer and he had 4 points on each side so I thought he was an average sized deer. As I came into town with him strapped to the rack on my quad, hunter's and friends kept stopping me and telling me that he was a great buck. I kept getting more and more excited. We live just down the road from a taxidermist that has hunted Cous in Arizona for 30+yrs and he had given us lots of advice on hunting these elusive "grey ghosts". We had already told him if we got one he would be mounting it for us. I stopped at his place to let him know I had filled my tag, He was floored. He told me it was "a buck of a lifetime" and that most hunters in Az would never even see one this big. I don't think my husband has ever been so proud of me. The buck measured 100 3/4 and I am now addicted!!!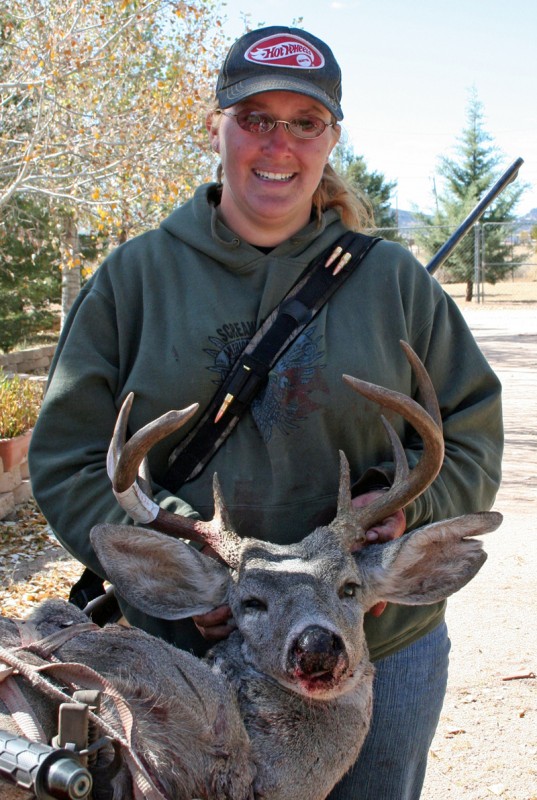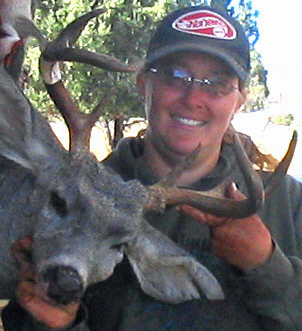 Tagged 100-110", hunt stories, Ladies, October