Hunt Stories
The First Hunt – 2006
by Brad Fulk, owner of Rio Sonora Outfitters.
Early December and the time had come to hit the ground running. With the expectations of possible finding a couple bucks in the 130″ range, I put the entire RSO Team together for the hunt!
Mike and Kevin went separate ways as Team RSO spread out glassing as much country as possible the first evening. Windy conditions kept the deer down and very little activity was noticed. Plans were made for the first morning, again we spread out into several different areas, including the canyon we saw the buck in 2005. Both Kevin and I were horseback about a 1/2 mile apart, Mike and guide Jason Greer went into the canyon they glassed the first afternoon, guide Jimmy Vincent went into an area I had taken a great buck out of in 2005, and guide Martin Guerena covered an area on the backside of the canyon Jason and Mike were glassing. Both Kevin and I were getting pounded by the wind up high on the mountainside, but with our elevation, we could maintain radio contact to all parts of the mountain range we were hunting. At this point, Martin and I were the only ones to have seen this buck, so we described what we expected the buck to look like, a drop-tine on the right with long brow-tines and basically said "you should know him when you see him"! We had took a couple 120″ plus bucks off this particular range in the past, so we had pretty high expectations of seeing a big deer somewhere.
Glassing was tough with the gusts blowing in our face, and there was silence on the radio, no one was seeing anything other than the few does and a small buck I found in the canyon bottom, below Kevin. We watched the deer feed with hopes of another buck stepping our into view, but that didn't happen. I began glassing new country when I got a call, it was Jason, I could make out "we got him"! After confirming what he found, I was able to get ahold of everyone and quickly we headed off to their location. This buck had to be recognizable, was it him?
It took 45 minutes for Kevin and I to get off the mountain and to the corral where Mike was waiting to transfer us from a horse to a Ranger. When we got to the canyon, Martin had just gotten there, all we had to wait for was Jimmy and the ranch cowboy. We hiked up to Jason and words just cannot describe the look on his face. He said the buck was absolutely huge and just bedded along with a smaller buck in some heavy browse. Mike shot a great 4×4 buck (shown below) in January of 2005, so he handed this opportunity over to Kevin. After some fairly critical planning, Kevin, Jason, Mike and I began a 3/4 mile stalk up the canyon, with Jimmy, Martin and the ranch cowboy staying back to watch the area the bucks were bedded in.
The stalk went well, no deer or cattle were busted out ahead of us which was my worst fear, and we got to a point we had set out for completely undetected! Kevin rolled out in front of the rest of us and set up on his pack with his .300 RUM, both Jason and I were filming Kevin and the buck, and Mike set up the spotting scope on the buck which was up feeding in the middle of a chaparral thicket. Kevin found the deer quickly, so I told him not to look at the antlers and to hold off until he feed into a opening. I got my 15′s on him, and then hit him with the rangefinder, 415 yards, perfect! I wanted to milk the video footage as long as possible, but I definately didn't want to frustrate Kevin, who was steady as a rock on his Eberlestock Pack and extremely eager to drop the hammer. At that point, all we had to do was wait. The deer began moving slowly toward an opening and in a step or two he would be in the clear for the second time. I couldn't tell Kevin to pass on another shot. With cameras rolling on both Kevin and the buck, a few seconds passed then I gave Kevin the go ahead and the vapor trail of the 180 gr. Nosler Ballistic Tip told me the deer was dead before the bullet reached the shoulder. Kevin made a perfect shot on the buck that will most likely be the largest any of us there that day will have the pleasure of seeing. BIG BUCK DOWN!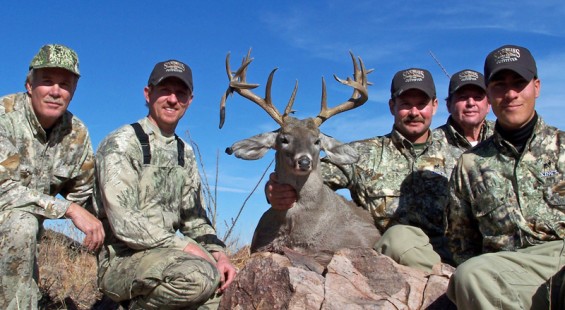 From left to right; Mike and Kevin Kearney, Brad Fulk, Jimmy Vincent, and Martin Guerena.
Tagged mexico, Rio Sonora Outfitters