Hunt Stories
Well, tell me the story!
By Paul Grube
"That is a nice deer", my dad said as I neared the truck. "Yeah I…think it is…bigger than three years…ago" I panted as I laid the animal down on the open tailgate. "Oh he is way bigger, congratulations!" As we rounded the truck for the ride home my dad uttered the phrase that hunters love to hear. "Well, tell me the story!"
I drove down from Flagstaff, where I am attending graduate school, on Thursday night and headed out with my dad Friday morning. We kicked up one whitetail on the way to our favorite glassing point. I only saw it for an instant and couldn't tell if it had antlers. We reached our glassing point and within 10 minutes I spotted a group of 3 does but no bucks. After two hours my dad asked how big does he have to be? "I'll take anything this year dad, I am just happy to be out here instead of in front of my computer." We spent the rest of the morning, afternoon, and early evening hiking. We spotted one more doe, and found a lion kill of a nice 3×3 mule deer.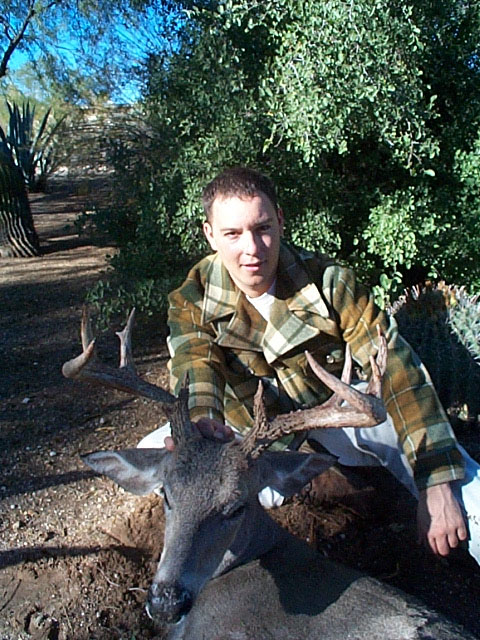 As the light of day dissipated my dad headed for the truck and left me in the high desert. I cooked some "camp-grub" on my portable stove then climbed into my bivy-tent for some much-deserved sleep.
I woke about 15 minutes later than I would have liked and scrambled to get my clothes on and get to my glassing perch a few yards away. I glassed for about 2 hours, taking small breaks to take bites of power bars and hydrate from the previous day of hiking. Finally, I decided to eat some real breakfast and wear some more tread off the bottom of my boots. After not seeing anything all morning and early afternoon I decided to call my dad to pick me up at our meeting point.
I spent Sunday physically and mentally recuperating.
Monday morning I woke up extra early and felt rested and ready to go. I watched the black sky as I sipped my morning coffee. "This will be the day" I told myself. It had to be, it was already the last day of the season and I would be driving back up to school that evening. My dad wished me good luck as I left the house that morning in my car. It was just getting light. I walked quickly through the wet grass at the base of the hill. My eyes darted from the cholla in front of me, to the steep canyon above and back. As I began to ascended the familiar slope something caught my eye ahead about 175 yards away. Two deer flanked by tell-tale white flags were trotting up the rocky ravine. I racked the bolt, raised the rifle and clicked the safety to fire in one fluid motion, just as my dad taught me to practice hundreds of times. The deer in the scope had a solid looking rack that spread high and wide. I squeezed off one round and racked the next bullet through out of habit. As I prepared for another shot the deer suddenly disappeared in the grass and underbrush. I sat down and waited about 10 minutes, then slowly approached the spot I had last saw the buck. I set down my rifle and admired my deer. "Hey dad", I spoke quietly into the cell phone, "would you mind bringing the truck up?"
I am writing this in Flagstaff, but my dad called me today. "I brought him to J. Clarno", my dad explained. I knew Mr. Clarno from Tucson because he had registered 2002 archery javalina into the Bowhunting in Arizona record books for my father and me. My dad reported that Mr. Clarno rough scored (before the 60 day drying period) the antlers to 111.7"gross and 105.2" net! "How am I going to top that for my 27 Bull hunt in two weeks" my dad groaned.
Yes, what a deer, what a hunt, what a story of a lifetime to share.
Hoping you will soon have a story to share, Paul Grube