To preface this, for those of you who might not know, my almost 13 year old son, Draysen, got licensed as a taxidermist this past spring through AZGFD and started a skull cleaning business. The members of CWT have been extremely supportive as he got started by donating equipment, sharing tips, and trusting him with their trophies. Since March he has cleaned in the neighborhood of 100 skulls with the help of a little free labor from dad. It has turned into quite the venture for him
 
This past weekend I was contacted by CWT member Smith2260 about having Draysen clean a bear skull for him from his weekend hunt. While working on it this evening, my son and I talked about sharing the step by step process with you all. Smith 2260 was kind enough to allow us to use his pictures and share the updates, so here goes. I will continue to update this post over the next week or two as we continue the work on the skull.


 
The hide had been removed prior to receiving the skull, so Draysen's first step was was to separate the jaw and remove as much excess flesh as possible in preparation for simmering.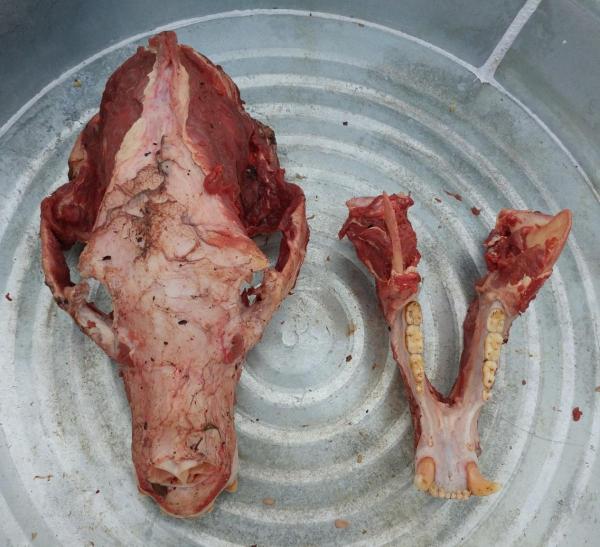 Simmered in a pot of water and detergent on low heat for about 30 minutes.


 
After removing it from the pot he used a pressure washer to remove all remaining flesh, brain matter, etc.


 
At this point in needs to soak in the whitener for at least a week to whiten and slowly draw out the grease from the skull.


 
More to come...
*Update 8/22/17*
We are exactly one week in now, and pulled the bear from the degreasing/whitening agent. It is coming out fantastic!
You will notice that most of the smaller teeth from the top front jaw have been pulled. The smaller ones from the bottom jaw are equally loose, but we left them in for the picture. Most of the big teeth have become loose as well. This happens as the peroxide "disolves" the tissue down in the small spaces down by the roots. One of the final completion steps will be to glue them back in.
For now, he has gone to a second step in the degreasing to remove some more of that deep embedded grease from the skull. After a few days of this, he will let to skull dry to see if any grease starts to appear and will go from there.
*Updated 9/5/17*
After the previous pictures, he had to go back in the degreaser for a while. He is now finished up, has a sealer coat and is ready to go home.