On the first day, the hunter i was with missed a big buck we figure would go 110+. On the 3rd day, the other hunter i was with missed an opportunity at a 100" at 225 yards because of a gun jam. We hunted two particular bucks for the rest of the trip but we werent able to get it done. Kinda rough when a guy tells you he wont shoot past 300. On the 3rd day of the first week, it got to midday and my buddy Albert glassed up a lone coatimundi male. I borrowed Bobby's rifle and shot the coati out of a tree at 724 yards.
Then i was able to stay on the ranch for 4 days while everyone went home and Bobby brought down the second group of hunters. I mostly glassed during this time. I was able to shoot my first canvasback too. This ranch was great, we were always seeing big bucks and finding new ones.
The second week, i had my father to hunt with. We were basically hunting for anything over 100". On the first day i found a 115+ but my dad was never able to find him in the scope. On the night of the 2nd day, it rained HARD. Some of the ranch even got snow. It was still raining when we woke up, so we stayed in camp for a while and left around 9am. My father and I went to one of my favorite spots, a spot that i had seen a few shooters in. It was super cold with low wind. after only 30 minutes of glassing, i find a buck that i knew was a shooter. All i told my dad was that we needed to kill this buck. he was over 800 yards when this photo was taken. We were able to move in and played cat-and-mouse with the buck for almost an hour when finally my dad got a good shot at him. My dad shoots this buck at 206 yards, the buck beds immediately and dies within seconds.
My dad was overwhelmed with emotion. My dad stood up and i gave him a huge hug. I also congratulated him on killing his first 100" buck. My dad has been hunting coues deer for over 25 years, so it was about time. I quickly ran up the hill, grabbed my dad buck and brought it down to him. Words cannot describe this moment, it was such a honor to be there with my dad when he killed his first 100" buck. Just father and son, exactly how we started out hunting when i was 5 years old. we love hunting with other people but it just meant alot more for it to be just him and I.
We were back to the ranch house by 12, where i caped my dads deer then headed out to help another hunter. I found a buck id seen 3 or 4 days before and Markus killed him bedded a 425.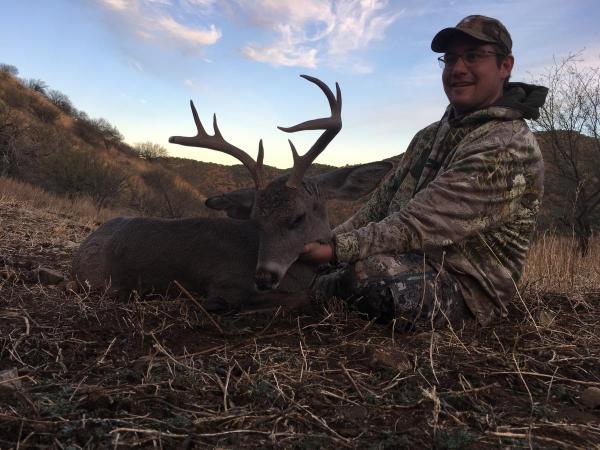 The next day, we all got together and helped Pete get tagged out.
here are some photos of the ranch