I know a man who grew up hunting, fishing, camping, packing and practically living in the wilderness with his parents and siblings. Also a large part of his upbringing was to work harder than he played. Combining all that with his unending commitment to his own family, throughout his young adult life, there was very little time for self serving hobbies. Hunting for himself took the back burners and although spending time in the woods with a tag and rifle, these occasions were never much about filling those tags. Instead his focus was on the eight noisy feet that trailed his lead through the woods and through life itself. When finally his last child reached adulthood his life was feeling a shift that brought mixed emotions. Everything he poured himself into for almost 3 decades was worth every second, none would be regretted, but all that was winding down. With a more calm household and weekends not filled with teaching his kids to work, sports and birthdays; lake, snow, camping and hunting trips, etc. It was time for a well deserved idea for himself. Naturally being drawn to challenge, it fit perfectly that his personality would lead to such a passion as dry range free lance lion hunting.
My Dad began his journey into this lifestyle about twelve years ago and it has been far from easy. Near the end of and just after high school, I was fortunate enough to be in the mix of it all at first. I can't tell you how many times I would have said fooey on it. After about two years of running into dead ends we caught our first glimpse of a lion, as it sprinted away. Our two best hounds at that time were close behind it, Nelly was so old and fat all she could catch was a nap, and the puppy on her heels was probably just opening out of pure confusion. We never saw that lion again, one of countless disappointments. Anyone who successfully raises dogs to catch lions in these desert mountains, my hats off to you. Besides that, scrambling your way towards the commotion and doing what it takes to wrap a tag around ones leg is a whole other feat in itself. Over time my dad has acquired great friends and mentors that have supported his dream in different ways. Offering sound advice and assistance in building a dependable pack.
His systems have evolved into a working art. To an outsider on their first excursion, along for a ride, every aspect may seam frantic and messy. Getting up many hours before the sun, saddling mules, equipping and loading dogs, long rough drives and over a dozen hounds erupting at once! Everything worth doing has ups and downs and I can witness this is very true for this lion hunter. Wonderful dogs he loved, meeting a sudden end. While doing what they love, with the master they love trying to keep up. Having also worked for years with breeding stalk to come up with his ultimate mule. Then to have it killed by bees as he himself narrowly escaped with hundreds of stingers pumping into him. The worst of his near fatal bee encounters. Countless stories of rattle snakes, bucking equine, rock slides, surprise weather, riding into the night and next morning. Injured dogs, mules, people and pride. Even so, all of this shadowed by success. Success brought on by utter determination and rejection of failure. A trait that comes down through people that settle wild places and build something from nothing. A mindset worth admiration in my book. My dad lives his life this way so it's no surprise his "retirement hobby" is such.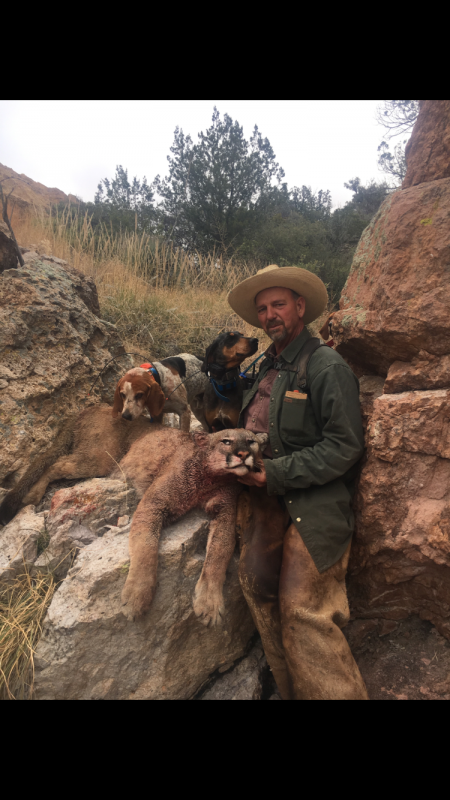 These some years later, we all now have our stories of lion hunting. Everyone who's been along for some small part has their stories. My brother, Caleb, can share a time he couldn't believe his eyes. Watching a machete, usually used for trail clearing, swipe through the air near the feet of my dads mule. Just in time to cut off a rattlers head before it's strike connected. Never slowing down or even acknowledging what happened my dad rode on through the thicket, returning the cutting tool to its sheath on his saddle!
Our brother, John, was able to offer a show one day as his own mule became air born multiple times, in huge lunges, on a steep rock slide. My dad got a front row seat and laughs when he tells the story. His oldest son just egged the knothead mule on, yelling in laughter! Our sister, Brianna, was raised with three relentless brothers, her lion hunts have been full bore as well. She has her recollection of run away mules and carrying beggar soup hounds back to the truck on her saddle horn. Even when it's necessary the dog seldom sees it that way, which makes those long rides taxing for even a tough and skilled rider. Her daughter, Grace, is the oldest grandkid. At ten years old she already bagged herself a lion.
Our mom has lived her entire adult life and spent much of her childhood near her husband. Knowing him not to be a loud or obnoxious man, she was in disbelief after a day of lion hunting. Hearing him yell at adolescent puppies all day was more than she'd heard him raise his voice the rest of their life combined. It should also be noted that being the wife of a lion hunter is no walk in the park. Over the years she has experienced some unique phone conversations. One hot, dry summer day, with little hope to run anything my dad called her to let her know the morning was uneventful and he'd be home in time for church. Literally within a few minutes of hanging up he was calling her back. With a deafening canine choir in the background he expressed what had just taken place. A lion surfaced from the dense vegetation he was riding through and went up a tree, only about 10 feet from him. To the surprise of the hounds, lion, mule and my dad they'd all but stumbled onto the cats day bed! Another time, he was answering any calls from my mom, regardless of timing because she was in Germany. Wouldn't you know it, the timing was bad. That phone call got cut short against his will and left her wondering for a while. Discovering later that with just some mild injuries, the day ended without any major issues. One December day my friend Creed and I were riding along behind my dad. It was mid morning, we were near the top of some rough and wild border country. My dad answered a phone call and we heard one side of the conversation;
"hey daughter"
"Oh yeah, thanks for calling me!"
"Ok, love you bye"
We were more or less minding our own business but couldn't help watching in wonderment due to his frantic reaction. He immediately made a call and left a message along these lines;
"Hey babe, happy anniversary. Alright, I love you, bye"
Both Creed and I about fell off our mules laughing. We went on that day to catch a big tom, saving many deer. Also of course benefiting ranchers within the approximate 250 mile range of these proficient predators.
A few years before, the day my dad treed his first lion, was two weeks before my wedding. I'll always remember my trembling fiancé, holding the .45 long colt, to fire a pistol for the first time. As she drew down on what my dad had been obsessing over for so long we held our breath as the first shot had no result. Then another shot rang out, nothing. I was a little ways from her and my dad, ten feet below the lion, with my Springfield .45 trained on its vitals. I delivered a few reassuring words to calm her nerves, then, shot three connected perfectly. The hero of the day, finally putting a rug on the wall and meat in our freezer, was a little red dog named Button. She went on to help catch many more, when she wasn't being reprimanded for trashing on Chula's (coatimundis). A problem he's since worked hard to reduce from his pack and remove from his mature lion dogs that lead the show.
Having owned and/or operated business since he was young, my dad has chosen not to turn this into a profitable endeavor. Luckily, for many friends and family over the years, countless stories have been formed because of that. Hunters have come from Vermont, Connecticut, Alaska, Iowa, Texas and other places for a few rides, and come to find out, a chance to never be the same. Always getting more than they expected and often shaking their head in disbelief as they depart. Spending the near future with sore muscles, tattered skin, bloodshot eyes and ruined cloths! The important impact lasts much longer, it goes deeper than that. Spend a few days or weeks or years experiencing it and it'll be quicker than me trying to explain.
Speaking of making memories and sharing experiences, it's time for why I started typing this afternoon in the first place. As my predecessors, I feel the responsibility and uncontrollable desire to provide my own kids with example and guidance. I am fortunate enough to have married up in the values of patience, kindness, understanding and so much more. Our oldest child is seven and she has been counting down the time until she can legally hunt, for several years. Although one has to be ten years old in Arizona to have a tag, there's no reason not to go along before then. This is the third season Adalie has joined her "Papa" and I lion hunting . Also for deer scouting trips and hunts. With her due diligence in place it was time to see a mountain lion! We decided to hit a spot she'd been before because it's not too brushy, which helps kids stay in the saddle.
Off we went as a train of excitement. Trailing the old man astride his powerful animal, holding back my fast stepping thoroughbred mule, just like old times. Continuing the dream with a wide eyed girl, on her old sure footed fellow named Applejack, between us. Surrounded by highly sensitive noses hovering the desert floor at an easy jog, we covered the short distance to the foot of the sky island mountain. My own hunting passion has shifted to the herbivores of these rocky ranges over the last few years. So as we approached the climb my mind started wondering what I could be glassing up. Prime time was arriving soon from over the eastern horizon. We were on a different mission on this cool morning though and as we made contact with the first little rise, an explosion of bawling brought my thoughts back. Excitement came across my daughters face just as suddenly and that was a great thrill for me. Within about two hours and as many miles, the three of us were a short distance from our hitched equine. Standing on a boulder, admiring the impressive cat who was lounging in a mature oak. With insane dogs losing there minds more every second, at their success. It was too loud to talk without yelling. I jumped to a different boulder to improve my shot angle and brought the racket to an end with one close range shot.
After doing our best taking pictures, we got everything set and lined out for the truck.
We dropped the lion off and made another loop, a little higher up to retrieve a trail camera I set the month before, during the archery deer season.
Turns out this was near the deep canyon where my Grandpa tagged a mature lion a couple years prior. I received the play by play of that hunt from my dad as he recalled the eventful day. His Pop was pushing 80 years old at the time and still harvesting critters out of primitive habitat!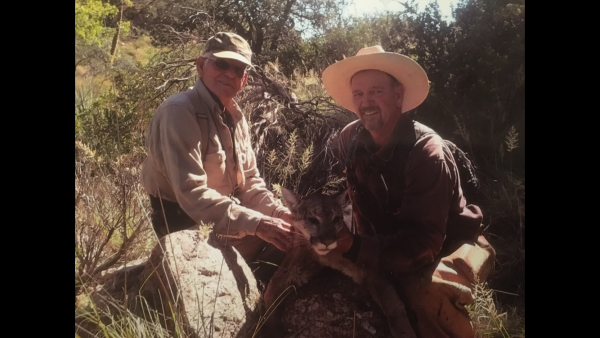 Waiting on some dogs at one point, Adalie shared a nap under a mesquite with a good ol hound dog named Mouse. One of my favorite activities, falling asleep in the sun after getting into a place traveled by few.
Another memory for the bank, one my dad or I will never forget. As for my daughter she has talked of little else since the incident. She's looking forward to the next ride and has her younger brothers jealous with her description of the day. Her very own, lion hunting story!
I feel very proud to take part in everything at play here. Conserving and managing wildlife in a responsible, rightfully legal, way. This is just a bonus to the main theme. Passing the torch, conserving a way of American life at it's finest. Carrying on tradition, making memories and above all, making kids into capable men and women. Not only in nature, but as well as in whatever way of life they seek. It all started long ago and shouldn't be slowing down any time soon.
Here was a day spent in the same place two seasons ago when Adalie found her first Coues deer shed! I had just barely avoided a rattlesnake bite. For a second my dad and I thought there was another snake because she lost her mind when she spotted the shed. It was awesome! She keeps it on her dresser and it's no laughing matter if anyone tampers with it.
Thanks for reading and happy scouting!